(CNN) -- A Swedish wrestler who discarded his bronze medal in a protest during the presentation ceremony has been stripped of the award and disqualified from the tournament in Beijing.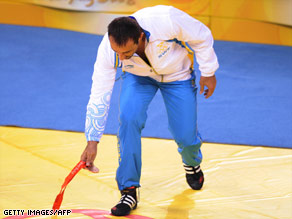 A disgruntled Abrahamian drops his bronze medal before leaving the arena during the presentation ceremony.
The International Olympic Committee said it was also officially disqualifying Ara Abrahamian, 35, from his event, Greco-Roman wrestling.
Abrahamian was beaten in the 84-kilogram class by eventual gold medal winner Andrea Minguzzi of Italy. He complained that "blatant errors in judging" caused him to lose the match and said he felt that he deserved the gold.
The Swede shouted at the referee before confronting the judges. During Thursday's presentation ceremony, he took off his medal and left it in the center of the competition mat before walking off.
The IOC said Abrahamian violated two rules of the Olympic charter, one that bans any sort of demonstrations and another that demands respect for all Olympic athletes.
"The awards ceremony is a highly symbolic ritual, acknowledged as such by all athletes and other participants," the IOC said.
"Any disruption by any athlete, in particular a medalist, is in itself an insult to the other athletes and to the Olympic Movement. It is also contrary to the spirit of fair play."
Abrahamian never expressed regret or offered an apology, the IOC said. The international weightlifting federation was asked to consider further sanctions against him.
His medal was the third stripped at the Beijing Games.
On Friday, North Korean shooter Kim Jong Su had his silver and bronze medals taken away after failing a doping test. Also expelled for doping violations have been Spanish cyclist Maria Isabel Moreno and Vietnamese gymnast Thi Ngan Thuong Do.
Abrahamian's case is not the first of its kind.
A weightlifter at the 1992 Barcelona Olympics was stripped of his bronze medal after rejecting it during the medal ceremony.
Ibragim Samadov, competing in the light heavyweight category for the Unified Team of the former Soviet Union, was upset with his performance and refused to have the medal placed around his neck and only accepted it in his hand. He then put it down and walked off.
Samadov later apologized, but the IOC upheld its decision to disqualify him, and he was later banned for life by the sport's governing body.
E-mail to a friend