BEIJING, China (CNN) -- On the last weekend before the Olympic Games begin in Beijing, Olympic officials were still wrestling with pollution problems, Internet access, and at least one doping case -- albeit an old one.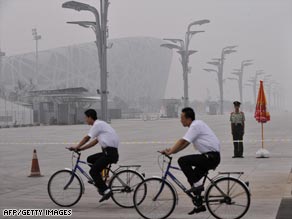 Cyclists pass the National Stadium known as the 'Bird's Nest' seen through thick smog in Beijing.
International Olympic Committee spokeswoman Giselle Davies told a news conference that plans are in place to be able to move events in time if air quality becomes a problem. She said Beijing Olympic organizers and Chinese environment authorities are providing the IOC with daily updates about pollution and weather, which can both have an effect on air quality.
"The two are pretty intrinsically linked," Davies told a news conference. "We've seen in past days that some of the bad skies were actually as much due to an amount of humidity in the air as anything else."
Chinese officials last month implemented a drastic plan to combat Beijing's persistent pollution problems, taking half of the city's more than 3 million vehicles off the road, temporarily closing factories and chemical plants, and suspending all construction work.
Chinese authorities have said they're confident they can reduce pollution levels but athletes will still have to compete in less-than-healthy air, which can hurt performance.

Watch more about Beijing's smog problem »
The capital and surrounding areas of northeastern China have the world's worst nitrogen dioxide levels, according to satellite images taken by the European Space Agency in 2005.
The U.S. Environmental Protection Agency says the chemical can cause eye, nose, and throat irritation. It may also cause impaired lung function and increased respiratory infections.
Most days, Beijing is a city shrouded in gray.

See photos of the smoggy cityscape »
Another issue of concern is press freedom after journalists this week discovered some Web sites were unavailable. A spokesman for the Beijing Olympics has said if some sites won't load it's because they have spread content banned by Chinese laws, not because officials are restricting the activities of the media.
The spokesman, Sun Weide, pointed out that new Chinese laws and regulations have eased restrictions on journalists. They include filming access in Tiananmen Square, simplified customs requirements for newsgathering equipment, and a "zero-refusal policy" for interview requests with Beijing Olympics officials, he said.
Sun said China would allow "sufficient convenience" on the Internet to allow journalists to do their jobs.
Davies said theIOC has had numerous meetings with Chinese Olympic officials and authorities about the issue, and the Chinese have promised the fullest Internet access possible for journalists.
"We can only welcome the openness and transparency moves made this week and encourage that that can continue," Davies said.
The IOC said this week it has made no deal about Internet censorship with Chinese authorities.
Davies also said the IOC Executive Board, which met Saturday for its last meeting before the Games, stripped the U.S. men's 1,600-meter relay team of the gold medals it won at the 2000 Sydney Olympics after an admission by team member Antonio Pettigrew that he had used performance-enhancing drugs.
The IOC ruled Pettigrew, who returned his medal in June, is now ineligible to compete in Beijing and it did not rule out further sanctions against him.
Board members will decide later how to reallocate the Sydney medals and diplomas, the IOC said.
"Doping is a serious threat to the integrity of sport," an IOC statement said. "Mr. Pettigrew's case illustrates that, by choosing to dope, an athlete also jeopardizes his own and his teammates' achievements."
E-mail to a friend

All About Summer Olympics • China • International Olympic Committee