From Barbara Starr
CNN Pentagon correspondent
WASHINGTON (CNN) -- It will be left to the next president to send a significant number of additional troops to Afghanistan, the Pentagon's spokesman said Wednesday.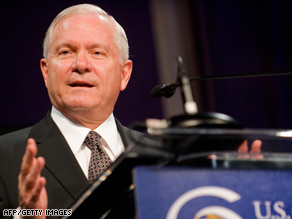 Defense Secretary Robert Gates says he'd like to add troops in Afghanistan.
U.S. commanders are asking the Pentagon for up to 10,000 more troops for Afghanistan.
The request was a subject of discussion when President Bush met with Defense Secretary Robert Gates and the Joint Chiefs of Staff at the Pentagon on Wednesday.
But getting more troops to the increasingly violent battle zone is unlikely to happen before Bush leaves office in January, Pentagon spokesman Geoff Morrell said.
"This government is going to work to provide additional forces for Afghanistan next year. How many, whether it's the three additional brigades that the commanders want, I think is a question, frankly, for the next administration," Morrell said at a news conference.
There won't be enough troops to send to Afghanistan any time soon because of commitments in Iraq, which is the priority for the Pentagon.
"The chairman of the Joint Chiefs has said time and time again Iraq is a mission we must do. Afghanistan is a mission we do as we can," Morrell said.
Don't Miss
The chairman, Adm. Michael Mullen, has agreed there are not enough troops in Afghanistan, but said the military is constrained by commitments in Iraq.
"We've got our troops committed right now, either preparing there or coming back," Mullen said on PBS's "NewsHour with Jim Lehrer" on Tuesday. "And until we get to a point where we reduce that commitment, we won't have significant additional troops to add to Afghanistan."
But a small number of support troops could be sent to Afghanistan sooner, senior military officials said. They said an order for several hundred troops, including helicopter units and combat engineers, is expected to be approved by the defense secretary.
E-mail to a friend

All About The Pentagon • Iraq • Afghanistan