LONDON, England (CNN) -- It's a rare occasion when more than three of our Principal Voices gather in a room at one time to discuss solutions to world problems.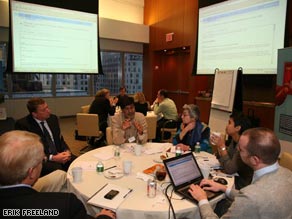 The Principal Voices split into working groups to develop action plans at the first ever alumni event.
But this week, thirteen past and present opinion leaders, businessmen and campaigners gathered in New York for the first ever Alumni event (see below for the list of attendees).
They split into four working groups to discuss the issues of climate change, energy and environmental efficiency, infrastructure and development and corporate responsibility.
The aim was to come up with a set of projects that could be put into practice to make a tangible difference in the world.
It was a hefty agenda to get through in one afternoon. Here's a snapshot of their ideas.
On Climate Change:
The groups agreed that legislation is needed to compel carmakers to produce more energy efficient vehicles. There was also considered to be a lack of input from the scientific community when it comes to policy-making.
Neil Gershenfeld, director of The Center for Bits and Atoms at the Massachusetts Institute of Technology described the level of scientific intelligence in the U.S. government as "appalling."
"Creating jobs, climate change, etc. is a science issue yet there is very little scientific input in policy," he said, adding "Science oversight in the government is needed. This should be a scientific office within the government that is involved in the policy process and can vet bills for scientific progress."
As well as input from the scientific community, the groups proposed generating a groundswell of "excitement and enthusiasm" for change through a viral public relations campaign, aimed particularly at the young.
There was also a need, they said, to make policy makers more aware of how climate change is affecting people's daily lives. Priority should be given, one said, to educating people who are experiencing the impact of climate change, but don't know why.
"People who live close to the ground in countries that are being affected by climate change know that changes are happening but don't necessarily understand why," said Kristine Pearson, CEO of the Freeplay Foundation, which distributes wind-up and solar lights in Africa. Read more about the foundation's work in Africa
"There is no emotional literacy around this issue, particularly in the developing world. This can be changed by using cell phones, radio and organizations that are close to the people to disseminate information," she suggested.
On Energy and Environmental Efficiency
The need for education and closer ties between science and policy were themes that also emerged when the groups discussed "energy and environmental efficiency."
Each group agreed on a number of rough policy statements which revealed a shared view on the need to prioritize energy issues.
It was thought that education was needed to encourage people at all levels -- businesses and individuals -- to use energy more efficiently.
It was suggested that there's a need to facilitate a global cap and trade system and use standard rules across the board.
Governments, it was said, should be encouraged to harmonize national policies toward energy and climate change. And, it was agreed more should be done to encourage social entrepreneurship for micro-energy development.
On Infrastructure and Development
The key question here was how design and infrastructure can make homes, towns and cities more livable, environmentally friendly and energy efficient?
The Principal Voices agreed there was no point in taking a short-term approach to infrastructure. Buildings should not be considered in isolation; power, water and waste should be integrated in a "whole system" approach that can adapt and change with the community.
They also acknowledged on a need for local solutions to local problems.
Cameron Sinclair, co-founder of Architecture for Humanity said there was no point in adopting a "cookie cutter," one-size-fits-all approach to solving local issues. He stressed the need to encourage local communities to use their skills and ingenuity to develop long-term solutions. An interview with Cameron Sinclair
Sinclair said helping communities to start new industries would not only create jobs, but allow them to gain experience through trial and error. The outcome would not only be solid businesses, but a sense of pride in the community.
The groups also said there was a need to redesign financial flows, to create new ways to finance access to education and new skills in developing countries.
On Corporate Responsibility
Have the goal-posts for corporate responsibility shifted? What should companies be doing now to satisfy expectations of responsibility?
After rigorous debate, the Principal Voices whittled their concerns and opinions to just two action points.
They agreed on the need for a fluid code of conduct about how companies behave and how they communicate the relevant information to their shareholders, suppliers and employees.
David Hales, president of the College of the Atlantic, called for companies to fully disclose their climate-related risks. He said there was need to compel them to do analyze their climate-risk profiles in the hope that the results might encourage new ways of thinking. An interview with David Hales
During the debate, the Principal Voices discussed whether there are enough checks and balances currently in place to ensure companies are meeting acceptable standards.
Human rights activist Kailash Satyarthi of the Global March Against Child Labor said treaties and conventions had been signed to set international standards of corporate social responsibility (CSR), but more monitoring and enforcement was needed to ensure that minimum standards were being met.
Neil Gershenfeld asked whether Satyarthi could see a time when companies considered corporate responsibility as just "good business."
Satyarthi said it was already been seen in the carpet industry in India, where he set up Rugmark, an organization which aims to put an end to illegal child labor in the industry.
He said companies that are promoting their labor standards are building reliable reputations and attracting more business.
Principal Voices in New York
Alexandra Cousteau, Blue Legacy
Cameron Sinclair, Architecture for Humanity
David Hales, College of the Atlantic
Paula DiPerna, Chicago Climate Exchange
Rory Stear, Freeplay Energy
Kristine Pearson, Freeplay Foundation
Kristin Peterson, Inveneo
Harrison Fraker, Professor of Architecture and Urban Design, Berkeley
Kailash Satyarthi, Global March Against Child Labor
Neil Gershenfeld, Director, Center for Bits and Atoms, MIT
Moses Chiat Chang Wong, Director, Temasek Design School
Carl Hodges, The Seawater Foundation
Dr. Joseph Adelegan, Global Network for Environment and Economic Development Research
E-mail to a friend