From Martin Arostegui
CNN
SANTA CRUZ, Bolivia (CNN) -- An insurrection against President Evo Morales in the eastern part of the country entered its second week Tuesday, with groups backed by local governors seizing control of government offices and airports and threatening to shut off a gas pipeline that feeds strategic fields in Argentina and Brazil.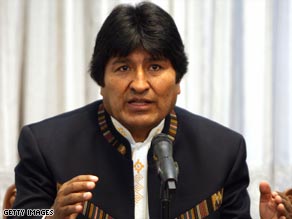 Bolivian President Evo Morales faces protests in the eastern part of his country.
In the nerve center of Santa Cruz, mobs rampaged into the main telephone office, which had recently been nationalized, and took control of the internal revenue and agrarian reform offices in the town center.
Government security forces were forced to retreat back to their barracks. Some of them were beaten and had their weapons stolen. By evening, control of the city center was firmly in the hands of autonomy protesters. Hundreds of demonstrators, many carrying the green and white flag of Santa Cruz, ignited fireworks in celebration.
Meanwhile, the bulk of the army was busy ensuring gas continued to flow through the pipeline. Any interruption could black out parts of Argentina and the Brazilian city of Sao Paulo. Brazilian Foreign Minister Celso Amorim has warned that if Morales fails to secure the pipeline, Brazil may open its own contacts with the eastern governors.
The governors of the four eastern provinces -- Santa Cruz, Tarija, Beni and Pando -- are seeking greater autonomy and a greater share of recently nationalized energy reserves.
Bolivia faces a stark divide along racial lines, with the largely white populations of the eastern provinces in opposition to the indigenous population of the western Andean highlands.
Morales, the nation's first indigenous president, was elected on promises to nationalize some industries and redistribute wealth to the largely impoverished indigenous population.
Don't Miss
In August, he won a 67 percent majority in a referendum on his rule. But the eastern provinces voted overwhelmingly for autonomy in June and July in votes that Morales has not recognized as valid.
E-mail to a friend

All About Evo Morales • Bolivia • South America