(CNN) -- Canada announced Wednesday that it will dispatch a warship to Somalia's coast to protect U.N. aid ships from pirate attacks.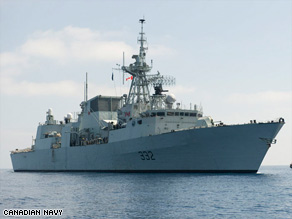 The Canadian frigate HMCS Ville de Quebec will escort ships carrying food aid to Somalia.
"Canada is stepping up to the plate by tasking Ville de Quebec with the role of escorting World Food Programme ships to ensure their safe arrival at designated ports," Canadian Defense Minister Peter MacKay said in a government news release.
The United Nations hunger program praised Canada for answering its call for help, and said it hoped other governments would step forward to take over from Canada once it completes its mission in a few weeks.
The HMCS Ville de Quebec is a 440-foot frigate armed with torpedoes, surface-to-air missiles and other weapons, and carries a twin-engine Sea King anti-submarine helicopter.
Ville de Quebec, which can travel at speeds greater than 27 knots, will be dispatched after Somalia's transitional government formally authorizes the mission, the government's news release said.
WFP asked the world's naval powers in mid-June to help its ships reach the more than 2 million people in need of aid. It put out the request weeks before French, Danish and Dutch warships ended their escort missions, which began in November.
Pirate attacks on unescorted ships have been a growing problem in Somalia. Three European freighters were hijacked off the Horn of Africa in June, adding to the 27 other reported attacks this year, according to the International Maritime Bureau, which tracks piracy.
WFP delivers 80 percent of its aid to Somalia by sea, and WFP spokesman Peter Smerdon said that if there are no warships to escort the food supply, the program will have to rely on ground or air travel to deliver the food. But both are dangerous and expensive.
The agency said that if there is no assistance from naval powers, piracy will increase, and so will death and malnutrition.
Smerdon said that although Somalia's food crisis hasn't yet reached the devastation of the early 1990s, "We're worried it will be."
E-mail to a friend

All About Somalia • Canada • Pirates • United Nations World Food Programme