From Jamie McIntyre and Laurie Ure
CNN

GUANTANAMO BAY, Cuba (CNN) -- Osama bin Laden's former driver knew the target of one of the hijacked planes on September 11, 2001, prosecutors said as the military commission trial of Salim Hamdan began Tuesday.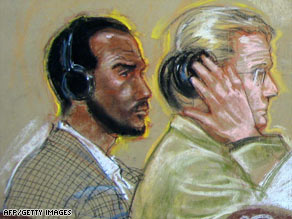 Salim Hamdan, left, appears with a member of his defense team during a pretrial hearing in June 2007.
Hamdan told U.S. interrogators the fourth plane was aimed at "the dome," apparently a reference to the U.S. Capitol, the prosecutors said. The plane crashed in a field in Pennsylvania after the passengers fought the hijackers.
But the defense said Hamdan was a low-level driver who knew little about the workings of bin Laden's al Qaeda network. They said he worked for wages, not to wage attacks against America.
Captured at a roadblock in Afghanistan in November 2001, Hamdan pleaded not guilty at the start of the trial, which will be closely watched as the first full test of the Pentagon's system for prosecuting alleged terrorists.
He faces a maximum life sentence if convicted of conspiracy and aiding terrorism.
The first prosecution witness, a U.S. soldier who was present when Hamdan was captured, originally said Hamdan was driving a car that had SA-7 surface-to-air missiles intended for al Qaeda. But on cross-examination, the soldier, identified only as Maj. Smith, said he could not be sure Hamdan was the driver of one of the three vehicles carrying the missiles.
Defense lawyers also complained that they had not been allowed to see all the evidence against their client.
The trial is being conducted under the Military Commissions Act, a law passed in 2006 after the Supreme Court ruled against an earlier Bush administration plan for trying Guantanamo Bay detainees under military rules.
That Supreme Court opinion came as the result of a suit brought on behalf of Hamdan.
The Military Commissions Act allows for the use of some evidence that would not be permitted in a court trial, such as hearsay and statements gathered from coercive interrogations.
However, Judge Keith Allred, a Navy captain, ruled Monday that the prosecution cannot use a series of interrogations of Hamdan done at Bagram Air Base and Panshir, Afghanistan, because of the "highly coercive environments and conditions under which they were made."
The trial is expected to last four to six weeks.
About 270 detainees are being held at the U.S. military prison at Guantanamo Bay, according to the Pentagon. They include 14 suspected top al Qaeda figures, including Khalid Sheikh Mohammad, who is suspected of planning the September 11, 2001, terrorist attacks.
He was transferred to the facility for trial in 2006.
E-mail to a friend

All About Guantanamo Bay • Salim Ahmed Hamdan • Terrorism • Osama bin Laden