From Mike Mount
CNN Senior Pentagon Producer
WASHINGTON (CNN) -- Pirates holding a ship full of tanks and ammunition off the coast of Somalia are likely to be paid millions of dollars in ransom within days, senior U.S. military officials said.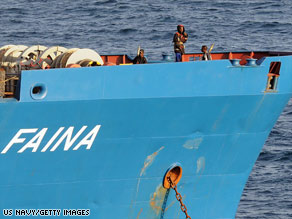 Somali pirates holding the MV Faina stand guard on the merchant vessel's deck on October 19.
The pirates have been holding the Ukrainian-operated, Belize-flagged MV Faina and its 20-person crew in the Gulf of Aden since September 25.
Military officials said the cash payment will be brought on the ship, directly to the pirates. Such a procedure is common because of the lack of electronic banking in Somalia.
The officials would not say how much ransom is being paid or who is paying it because it would be up to the individuals or company to make that announcement.
What's known is that the pirates originally asked for a $35 million ransom, but lowered their demand to $20 million, Andrew Mwangura of the Kenya Seafarers Association told CNN in November.
The ship is laden with Soviet-era tanks, tank artillery shells, grenade launchers and small arms.
The merchant vessel was heading for Kenya, whose government had bought the weapons from Ukraine, Ukrainian Defense Minister Yuri Yekhanurov said, according to the Interfax-Ukraine news agency.
Don't Miss
Officials said a ransom was close to being paid to the pirates weeks ago, but it did not come through and the merchant vessel remained under control of the hijackers.
The captain of the ship died of a heart attack days after the hijacking. His body remains on the ship, kept in a giant cooler to slow down decomposition, officials said.
The U.S. Navy has been shadowing the Faina every day since its capture, officials said. There has been some communication with the pirates during that time, such as checks on the status of the crew.
The Pentagon has been very interested in this hijacking because of concerns that the large amount of ammunition on board might be taken off the ship and put into the hands of gangs on the Somali shore.
Navy officials said its ships would offer medical aid and food to the crew once the pirates give up the ship.
Pirate activity off the coastline of east Africa is a cause of growing international concern, with a number of ships -- including the Saudi-owned supertanker Sirius Star -- being captured in the past few weeks.
The Gulf of Aden is now being patrolled by a number of international navies.
E-mail to a friend

All About Gulf of Aden • Somalia • Pirates • Kenya