(CNN) -- United Nations troops exchanged fire Wednesday with militia fighters who attacked them in the Democratic Republic of Congo, a military spokesman for the U.N. mission there said.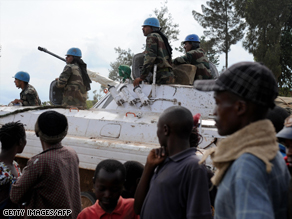 U.N. troops enter a peacekeeper base in Kanyabayonga on Tuesday.
It was the second time in a week that the international peacekeeping force has come under attack by pro-government fighters, Lieutenant Colonel Jean-Paul Dietrich said.
"It was a rather small incident, but it's disturbing because it's the second time in a week," he said.
No U.N. troops were wounded in the incident, but at least one of the militia fighters was wounded or killed, he added.
Dietrich said the attackers were Mai Mais calling themselves Resistance Congolese Patriots. The groups had been allied with the government against rebels under the command of Laurent Nkunda, but have recently begun attacking government troops as well.
The exchange of gunfire took place near Kibututu, a small village near Kiwanja in North Kivu province.
"Before firing at us, they were asking for food and money," Dietrich said. "We did not give them anything, we just drove on, and they attacked us."
The U.N. troops were originally approached by four or five fighters, but came under fire from two or three different directions, suggesting more militia may have been involved, the spokesman said, citing an incident report written by the U.N. forces who were attacked.
He described the Mai Mai as "local militias, mostly fighting with the governmental forces, except in the past few days when they were involved in fighting against government forces in retreat. They said they were retreating too easily."
The U.N. troops were Indians traveling in armored personnel carriers, he said.
Fighting between government forces and Nkunda's rebels has displaced more than 250,000 people -- adding to roughly 800,000 already driven from their homes by previous violence, according to U.N. figures. Explainer: Behind Congolese conflict
The conflict in Congo has been complicated by ethnic tensions, the presence of a myriad of rebel factions and by the involvement of neighboring countries including Rwanda and Angola.
Nkunda, a Tutsi, has repeatedly blamed the Congolese government for failing to protect Tutsis from attacks by Rwandan Hutus who fled over the border following the 1994 genocide that left hundreds of thousands of Tutsis dead.
E-mail to a friend

All About U.N.'s World Food Programme • Democratic Republic of the Congo • World Health Organization • Rwanda