(CNN) -- About 400,000 power customers in New England are still without electricity Monday after an ice storm ravaged the region last week, officials say.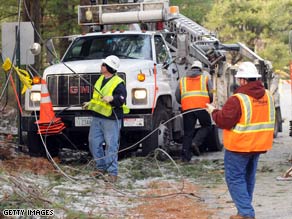 Utility workers repair lines Sunday in Londonderry, New Hampshire.
That's down from 800,000 Sunday evening and more than a million at the height of the storm.
But in some hard-hit Massachusetts counties, 90 percent of the customers of Western Massachusetts Electric were still in the dark as of 9 a.m. Monday, the company said on its Web site.
New Hampshire still had more than 150,000 customers without power Monday morning.
"In my 26 years here, it's the worst scene in terms of damage. It's tough but you just keep rolling. You try not to think about it. We try to get it on. We know it's cold and it's hard for them," Dan Boots, of Public Service of New Hampshire, told CNN affiliate WCAX-TV.
In Stoddard, New Hampshire, National Guard troops were going door to door to check on residents, CNN affiliate WMUR-TV reported.
"We're just taking it step by step, being cautious and communicating, trying to get the area clear," Sgt. Bryan Donisi told WMUR.
"I've got a wood stove and everything. The only thing we can't do is take a shower," Stoddard resident Mike Fleming told WMUR.

Watch how New Hampshire residents struggle with ice »
New Hampshire Gov. John Lynch urged residents to take advantage of shelters and to watch for others who might need help. iReport.com: New Hampshire resident struggles without electricity or running water
"I am also asking people look in on their neighbors, especially seniors or those who may be living alone. The utilities are reporting that it will be next week before the power is returned to everyone, so I want to stress how important it is to plan appropriately," he said in a statement Sunday.
Officials with National Grid power in New York state reported about 67,000 customers without power on Monday.
The company told CNN affiliate WRGB-TV in Albany that gusty winds forecast for some of the affected areas Monday could slow power restoration efforts.
Temperatures, however, were favoring repair crews Monday, going up into the 50s.
National Grid officials told WRGB they expected to have most service restored by Wednesday.
But temperatures were expected to dip well below freezing again by early Thursday.
Crews from Canada and from states as far away as Tennessee, Maryland and Ohio were dispatched to help bring electricity back online, according to power companies.
Unitil Corp., which had customers without power in Massachusetts and New Hampshire, said repair chores were formidable.

Watch how difficult it is for workers to get through the streets »
"Some circuits are having to be completely rebuilt, requiring extended periods of time to restore electric service to customers in the most severely affected areas," the utility said in a statement Monday morning.
NYSEG, in Mechanicville, New York, said about 15,000 of its customers still lacked power Monday morning. It said centers had been set up at local fire stations to distribute dry ice and bottled water.
President Bush has authorized federal aid by declaring a state of emergency in New Hampshire and Massachusetts. iReport.com: 'It looks like a war zone here'
Wintry weather was wreaking havoc across the country's northern half.
• One person died and another was trapped for a time in a pair of avalanches in the Utah mountains Sunday afternoon, authorities said.

Watch avalanche rescue efforts »
• North Dakota was recovering from a weekend blizzard that swept across the northern Plains. Temperatures were expected to peak at minus 10 degrees on Monday, forecasters said. Minot International Airport was at minus 23 degrees at 9 a.m. Monday, the National Weather Service reported.

Watch a whiteout in North Dakota »
• Roads were iced over and schools were closed as some of the coldest weather in years swept across the Portland, Oregon, area, CNN affiliate KGW-TV reported. Record-breaking lows in the teens were forecast for Monday night, and "daytime highs won't get above about 32 degrees from Wednesday through Saturday," KGW meteorologist Dave Salesky said.

Watch as cars slide across Portland roadways »
E-mail to a friend

All About Massachusetts • FEMA