(CNN) -- The nation's largest public utility has promised to do whatever it takes to clean a massive coal sludge spill in central Tennessee, Gov. Phil Bredesen said Wednesday.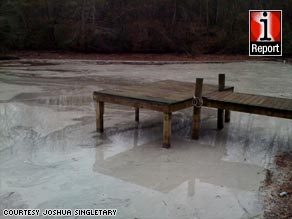 The water is cloudy on the east bank of the Clinch River in Kingston, Tennessee, on Monday.
The governor met with several families whose homes became uninhabitable after the December 26 spill, which unleashed enough sludge to fill 1,660 Olympic-size swimming pools.
"They're obviously concerned about being made whole in some way. They love the place they live. ... They know they're not going to be able to live there again, " Bredesen said after touring the site.
The sludge came from a coal-fired plant owned by the Tennessee Valley Authority, a federal corporation that provides power to 158 municipal and cooperative distributors in the southeastern United States.
Bredesen promised that the state will be watching the agency to ensure that it rectifies the situation as soon as possible.

Watch Bredesen talk about the spill »
"The state of Tennessee is going to be looking over [the TVA's] shoulder through this entire process," Bredesen said. "We're committed to independence. We're not an arm of TVA. We're going to exercise the state's authority, and we're asking the federal government to participate with us to make sure that everything's done right."
The sludge is a byproduct of the ash from coal combustion. It covered more than 300 acres -- an area bigger than that covered during the Exxon Valdez oil spill -- after a breach in the wall of a retention pond at the TVA plant, about 40 miles west of Knoxville.
All residents in the area were evacuated, and three homes were deemed uninhabitable, according to the TVA. About a dozen other homes were damaged.

Watch residents react to the spill »
Bredesen said the cause of the breach has not been determined and vowed that the investigation into the spill will be as "open and transparent as possible."
Two water-supply intake sites in Kingston and Rockwood were being monitored daily for possible contamination and results posted on a Web site, he said.
Homeowners may ask the state Department of Environment and Conservation to have their wells tested free of charge, Bredesen said.
There are six other coal-fired plants in Tennessee, and Bredesen said he has directed the state agency to inspect them for possible problems.
On Tuesday, a real estate developer filed a $165 million lawsuit against the TVA, saying the sludge spilled into his North Lake Estates development, causing two home sales to fall through.
TVA officials have declined to comment on the lawsuit.
E-mail to a friend

All About Tennessee Valley Authority • U.S. Environmental Protection Agency