(CNN) -- A real estate developer has filed a $165 million lawsuit against the nation's largest public utility, claiming damages from a massive coal sludge spill that dumped more than a billion gallons of waste into central Tennessee.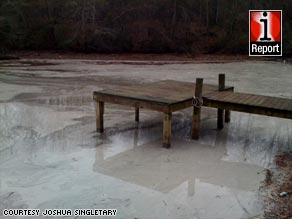 The water is cloudy on the east bank of the Clinch River in Kingston, Tennessee, on Monday.
The plaintiffs, Jot Raymond and his wife, Brenda, say the coal sludge from the Tennessee Valley Authority's Kingston plant spilled into his North Lake Estates development, causing two home sales to fall through.
Jot Raymond said he has not been allowed to take potential buyers into the subdivision for showings or visit his daughter who lives there.
TVA officials declined to comment on the lawsuit, which was filed Tuesday.
The December 26 spill unleashed enough sludge to fill 1,660 Olympic-size swimming pools.
The sludge is a byproduct of the ash from coal combustion. It covered more than 300 acres -- an area bigger than that covered during the Exxon Valdez oil spill -- after a wall breached at a retention site at the TVA plant, about 40 miles west of Knoxville.
All the residents in the area were evacuated, and three homes were deemed uninhabitable, according to the TVA. About a dozen other homes were damaged.
Don't Miss
Raymond's attorney, Mike Ritter, said the lawsuit was filed in Roane County Circuit Court. He said four more plaintiffs with similar claims likely will be added to the lawsuit by Monday.
E-mail to a friend

CNN's Tristan Smith and Brooke Baldwin contributed to this report.
All About Tennessee Valley Authority • Tennessee River • U.S. Environmental Protection Agency