NEW YORK (CNN) -- The Better Business Bureau is assuring individuals who recently received a check from a federal court in Pennsylvania that the checks are legitimate and part of a settlement agreement with Wachovia Bank related to telemarketing fraud.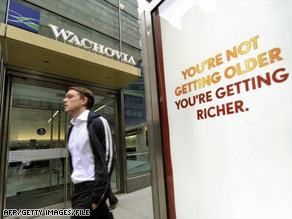 The checks are part of a $150 million court settlement Wachovia agreed to in Philadelphia, Pennsylvania.
The agency said it has been receiving calls from consumers concerned about the legitimacy of the $149 checks and confused why they are included in the settlement.
The checks are part of a $150 million settlement Wachovia agreed to in U.S. District Court in Philadelphia, Pennsylvania, the bureau said in a press release.
"These checks are legitimate and consumers who receive them can safely deposit the check in their banking account or cash the check at a Wachovia branch," said Tom Bartholomy, president of the Better Business Bureau of Southern Piedmont in Charlotte, North Carolina.
Wachovia began mailing checks in varying amounts to about 742,000 consumers on December 11, according to the U.S. attorney's office for the Eastern District of Pennsylvania.
Regulators said the settlement agreement arose from banking arrangements that Wachovia had with telemarketers to process payments for product orders made over the telephone. Individuals who receive settlement checks ordered products or services from one of these telemarketing firms between 2003 and 2007 and paid by electronically created checks that didn't require a customer's signature.
In addition to checks for the amount taken out of their accounts, victims also will receive a claim form for bank fees they may have had to pay when their account was overdrawn because of unauthorized withdrawals, the U.S. attorney's office said.
Regulators created a Web site and a toll-free number to address victims' concerns and to answer questions. The Web address is: www.restitutionpayment.com and the toll-free number is: 1-866-680-6659.
E-mail to a friend

CNN's Karina Frayter contributed to this report.
All About Wachovia Corporation • Better Business Bureau