From Susan Roesgen
CNN
CHICAGO, Illinois (CNN) -- A resolution could come Tuesday to the sit-in by laid-off workers at a Chicago window factory, a mediator in the talks said Monday night.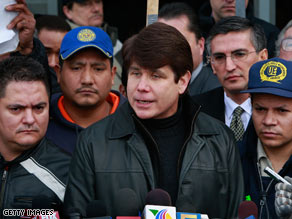 Illinois Gov. Rod Blagojevich, center, speaks to reporters Monday after meeting with workers.
There was a tone of reconciliation and of wanting to find an end to the situation in talks between representatives of the factory, the laid-off workers and Bank of America, said Democratic Rep. Luis Gutierrez, who has been helping mediate the discussions.
Gutierrez said talks had progressed and he hoped there would be a resolution by Tuesday afternoon.
"Tomorrow we hope to have the kind of resolution that allows these families to have a good holiday," Gutierrez said.
About 200 workers from the United Electrical, Radio and Machine Workers of America have conducted what they called a "peaceful occupation" of the Republic Windows and Doors factory since Friday, the day layoffs were supposed to take effect.
Illinois Gov. Rod Blagojevich ordered the state government to suspend doing business with Bank of America Monday as the weekend protest spilled into the workweek.

Watch workers explain why they're staging the sit-in »
The workers said Republic gave them three days notice that they were losing their jobs, telling them Bank of America had cut off credit to the company. Federal law requires either 60 days notice or 60 days pay for the laid-off workers.
"We are going to do everything possible here in Illinois to side with these workers," Blagojevich said after meeting with them. "And it isn't just lending them moral support, but it's putting pressure on financial institutions like the Bank of America as well as making sure that we have our court system enforce the federal laws so these workers are getting what they're entitled to under the law and under what is the right thing to do."
The Bank of America "received $25 billion in taxpayer money as part of the financial bailout," the governor said. "This is exactly and precisely the kind of thing that isn't right when, on the one hand, powerful special interests get the help of taxpayer money to bail them out, the banks. And yet the purpose of that money was supposed to be to provide a line of credit to businesses like this to keep workers working and keep people employed."
Republic Windows and Doors has not commented publicly on the layoffs or the sit-in.
Bank of America said it is not responsible for action taken by Republic.
"Neither Bank of America nor any other lender to the company has the right to control whether the company complies with applicable laws or honors its commitments to its employees," the bank said in a written statement.
But union representative Leah Fried said Republic had put the blame squarely on the bank.
"The company told us very clearly they are shutting down, shutting their doors because Bank of America refused to continue their credit and their financing," she said. "They also told us very clearly that Bank of America did not authorize any expenditures towards people's vacation pay or any money they would be owed. Now, that can't be clearer to me that Bank of America is calling the shots."
Fried also said that because Bank of America owns the equipment at the plant, workers are concerned that it might liquidate the assets.
"We're saying you've got a choice," she said. You can either liquidate those assets and take the money for yourselves, or let's talk about doing the right thing and finding better management for this company, keeping it open, saving 300 jobs. Or at the very least allowing Republic to fulfill its obligation to pay its workers what they're owed under law."
Blagojevich told reporters that his office was seeking a temporary restraining order to prevent Republic from dissolving before its workers have a chance to seek redress. The state is also working with food banks to provide food deliveries for the laid-off workers and their families. Civil rights leader Jesse Jackson delivered turkeys to the workers Sunday.
Political figures in the Chicago area have turned out to support the sit-in -- including the former South Side state senator who was elected president last month.
"Number one, I think that these workers, if they have earned these benefits and their pay, then these companies need to follow through on those commitments," President-elect Barack Obama said during a news conference Sunday. "And, number two, I think it is important for us to make sure that, moving forward, any economic plan that we put in place helps businesses to meet payroll so that we're not seeing these kinds of circumstances again."
E-mail to a friend

All About Chicago • Barack Obama • Labor Unions