By Jamie McIntyre
CNN Senior Pentagon Correspondent

WASHINGTON (CNN) -- The Pentagon is set to conduct the 13th and most realistic test of its missile shield system to date, officials told CNN.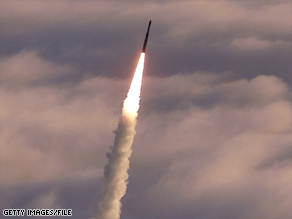 An official says the target missile launched in the upcoming test will have countermeasures.
The first "window," or opportunity, for the test opens at 3 p.m. ET Friday and runs through Tuesday.
Although the anti-missile system can work in any weather, the Missile Defense Agency needs a clear sky to monitor the $115 million test.
So far, the U.S. military has successfully shot down a mock warhead in space with an interceptor missile in seven tests. The interceptor carries a "kill vehicle," which is designed to destroy the target missile by crashing into it.
But critics have long complained the tests are not realistic, because they don't involve balloons or other decoys that, they argue, could easily fool the interceptor.
In the upcoming test, the target will be a mock warhead accompanied by "countermeasures similar to what Iran or North Korea could deploy," according to a missile defense agency official.
The official could not give details of the types of decoys because that information is classified, he told CNN.
The test, which has been delayed several times, comes at a critical time for the $100 billion system, as President-elect Barack Obama is about to take office.
Early in his campaign, Obama pledged to "cut investments in unproven missile defense systems." But later he said he would support missile defense systems if they work.
"The biggest threat to the United States is a terrorist getting their hands on nuclear weapons," Obama said in the September 26 presidential debate. "And we ... are spending billions of dollars on missile defense. And I actually believe that we need missile defense, because of Iran and North Korea and the potential for them to obtain or to launch nuclear weapons."
Last month, the outgoing head of the U.S. Missile Defense Agency said that not only are U.S. missile defenses workable, they are up and running.
"Our testing has shown not only can we hit a bullet with a bullet, we can hit a spot on the bullet with a bullet. The technology has caught up," Lt. Gen. Trey Obering said in a November conference call with reporters.
The upcoming test is designed to produce voluminous data with which to evaluate the operation of the missiles, radars and other systems.
E-mail to a friend

All About Missile Defense Agency • Iran • North Korea