(CNN) -- Brad Pitt has plenty on his plate. The Oscar-nominated actor and producer stars in "The Curious Case of Benjamin Buttons," which opens nationwide on Christmas Day.
Pitt is also the founder of Make It Right Foundation New Orleans Louisiana, an organization dedicated to rebuilding the city following the damage caused by Hurricane Katrina.
Pitt spoke to CNN's Larry King about his growing family, the crisis in India and revitalization efforts in New Orleans.
The following is an edited version of the interview.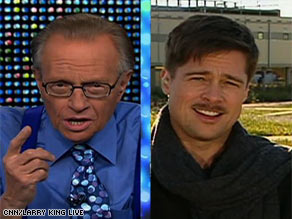 Brad Pitt tells CNN's Larry King he grew a moustache for the movie he's filming.
Larry King: How are the twins doing, by the way?
Brad Pitt: Everyone's healthy, so we're all happy.

Watch Pitt talk about being a dad »
King: All right. Let's talk about a couple of things before we get to what you've done in New Orleans. What are your thoughts on President-elect [Barack] Obama?
Pitt: I think, overnight, we redefined what America's about. I couldn't be any happier and more hopeful in the upcoming years.

Watch as Pitt shares his views on the election »
We were actually in Chicago, [Illinois,] in Grant Park, and I tell you, it was an incredible experience. We ended up walking home from the night, and all the main boulevards were closed, and just the jubilation in the street was something extraordinary to see.
King: What do you make of what happened in Mumbai?
Pitt: We stayed in the Taj, and we saw the room we stayed in was on fire.

Watch Pitt talk about India »
You know, I mean, I can't even begin to make any sense of it. But I'm sure they're doing their best to uncover, you know, what was at the base of it.
King: That's a very special place, isn't it?
Pitt: It's an incredible building. India itself is one of the most amazing countries I've ever been to. Everyone should be so fortunate to get to explore it.
It also suffers from inefficiency in a strange way, and a great gulf between the rich and the poor there that needs to be addressed there, but it is certainly a fascinating place.
King: How is Make It Right doing?
Pitt: The goal is to create a template for intelligent building. The goal is to rebuild all of New Orleans, all the people who want to come back.
This holiday, there are families that have already moved in and will be celebrating their Christmases here, so we're very excited.
King: You described the storm victims as being caught in limbo. How are they doing now? Is that hope still there?
Pitt: Well, the hope is definitely here. And it's more exciting to be here now, because you see things like what's happening in this neighborhood happening, you know, all over the city and even outside the city.
So, the money that was promised is starting to flow. There are multiple ground efforts, many different programs, people helping out that are really starting to come to fruition. So, there's a lot of great movement and a lot of great things happening down here. It's really nice to see.
King: You've said part of the appeal of New Orleans is that you and your family can have a sense of normalcy, if there is such a thing. How do you define normal?
Pitt: Yes. Well, it's a place that we can actually walk on the streets.
It's the community here. It's the people here. It's very kind. But they also, for some reason, do not feel like they have ownership in some way or something. They're really respectful.
Nothing more than a wave and "Glad you're here," and let us go on our way. We've made some good friends here. It's just a really nice (place). I don't know how to describe it better than that. Just a place for us to be.
King: Why do you think that the public is fascinated with the personal lives of people who are well known? You must have thought about that.
Pitt: I try -- I've stopped thinking about it, really. I mean, I don't know. There are certainly people I'm interested in. It's quite complimentary. But, you know -- and I think it is an interesting family. It's not your usual family.

Watch Pitt talk about why his family draws attention »
King: All right. You're on the January issue of -- the cover of "Architectural Digest," talking about Making It Right. You shoot some amazing photos of Angelina [Jolie, Pitt's partner] for "W." Exclusive photos of you and the twins were sold to "People" for charity.
You like privacy, but you like exposure. How do you balance the two?
Pitt: Well, the pictures for "W," you know, it's a really strange feeling. It's something Angie and I had to talk a lot about, especially with the birth of Shiloh.
There's a bounty on our heads, and these pictures are going to come out at some point. They're going to be chasing us, and they're going to go to the ends of the earth to get these photos.

Watch Pitt on privacy »
We just thought, well, maybe we could -- since there's such a bounty, and that bounty is so obnoxious, we could take that money and funnel it to something good. And that's what we decided to do.
It's still a bit uncomfortable to do such a thing, but I know it's right in the end. That was a decision we made.
We just didn't want to leave the house, so we just figured we'd do it ourselves, and had a good time doing it.
King: Christmas is coming. You said the last time you were with us that you wanted or hoped to build a multiceremonial family with regards to the holidays. Is that working out?
Pitt: We're still working on it. You know, we tried a little something last year, but the kids are so young, it just didn't mean much, really. But we're getting there.
You know, as they get older, they'll start to understand more. Right now, it's still presents.
E-mail to a friend

All About Larry King Live • Angelina Jolie • Brad Pitt