WASHINGTON (CNN) -- Defense Secretary Robert Gates said Thursday that if Russia doesn't step back from its "aggressive posture," it will adversely affect U.S.-Russian relations for years.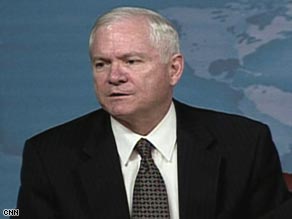 Defense Secretary Robert Gates says Russia's actions in Georgia threaten its relationship with the U.S.
However, Gates said he did not see "any prospect for the use of military force" by the United States in the conflict involving Russian and Georgian troops within Georgia.
"The United States spent 45 years working very hard to avoid a military confrontation with Russia," he said. "I see no reason to change that approach today."
The U.S. military has sent humanitarian relief to Georgia for residents displaced by the fighting. In addition to a flight that landed Wednesday evening, another C-17 flight of relief supplies arrived in Georgia on Thursday.

Watch Gates warn Russia to keep roads open »
"The most urgent priority for the U.S. military at this time is to save lives and alleviate suffering," Gates said at the Pentagon.
No additional flights are immediately scheduled until a U.S. military assessment team reports on what is needed.

Watch U.S. aid arrive in Tbilisi »
Gorbachev Exclusive
Tonight on Larry King Live: Mikhail Gorbachev's first interview on the Georgia crisis. Can the man who helped end the Cold War calm this latest threat?
Tonight, 9 ET
Russia said it launched the military operation Friday to stop a Georgian military crackdown on separatist fighters in the breakaway region of South Ossetia, which is pushing for independence from Georgia.
The conflict quickly spread to parts of Georgia and to Abkhazia, another breakaway region allied with Moscow, Russia.
Gates said his view is that Russia, principally Prime Minister Vladimir Putin, "is interested in reasserting the country's great power or superpower status" and "traditional spheres of influence."

Watch Gates say Russia wanted to 'punish' Georgia »
Don't Miss
"I think that there is an effort to try and redress what they regard as many of the concessions they feel were forced upon them in the 1990s, the early 1990s after the collapse of the Soviet Union," Gates said.
He said Russia's action was part of the effort to reassert the country's international status, but he said it was done in a negative way.
The conflict has uprooted about 115,000 people, according to the U.N. Human Rights Commission, and there are reports of hundreds and maybe thousands dead.
During the humanitarian operation, Gates said, the United States "expects Russia to ensure that all lines of communication and transport -- including seaports, airports, roads and airspace -- remain open."
"As the president said, we also expect Russia to meet its commitment to cease all military activities in Georgia. And we expect all Russian forces that entered Georgia in recent days to withdraw from that country," he said. iReport.com: Are you reminded of past wars? Do you remember the Cold War?
Gates said that he and Secretary of State Condoleezza Rice began a dialogue with Russia last fall to address shared areas of common interest, but "Russia's behavior over the past week has called into question the entire premise of that dialogue and has profound implications for our security relationship going forward."
"The days and months ahead will determine the future course of bilateral relations," he said.
"My personal view is that there needs to be some consequences for the actions that Russia has taken against a sovereign state."
Rice is heading to Tbilisi for talks with the Georgian government.
The Pentagon is reviewing "the entire gamut" of joint military activity with Russia and will make any necessary changes, Gates said.
He noted the canceling of a multinational naval exercise with Russia scheduled for Friday and a U.S.-Canadian-Russian exercise set for this month.
Defense officials have also said that the U.S. has repositioned some of its intelligence assets to provide the Bush administration with direct information about the conflict in Georgia and Russian military movements. iReport.com: Send video questions for ex-Soviet leader Mikhail Gorbachev
The official would not disclose what type of assets were moved, but it is believed that satellites that were tracking developments in Iraq and Afghanistan were repositioned over the weekend when it became clear the situation in Georgia was escalating.
In the initial days of the Russian-Georgian conflict, the United States did not have its own assessment of the fighting, said the official, who would not speak for attribution because of the sensitivity of the situation.
The United States also has confirmed that about 200 Russian troops are in the city of Gori, about 50 miles northwest of the Georgian capital, Tbilisi. Georgian troops retreated from the city three days earlier under heavy fire from the Russians, and most of the residents fled amid the fighting.

Watch Russian troops on the road outside Gori »
U.S. officials also said that Russia has moved about 5,000 additional troops into Georgia since the fighting began, bringing its total force in the country to around 15,000 troops.
E-mail to a friend

CNN's Barbara Starr contributed to this report.
All About Republic of Georgia • Russia