(CNN) -- A major Defense Department contractor has ordered its employees in Iraq to turn in their personal cell phones because "of a safety and security concern."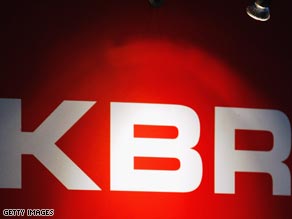 KBR says, "Any individual using a personal cell phone will be disciplined."
Houston, Texas-based KBR Inc., formerly Kellogg Brown & Root, issued a statement saying the company had sent a message with the order to its Iraq employees, but it did not explain the concern that prompted it.
"The matter giving rise to this message is still being reviewed by KBR management, so the company will not provide further comment at this time," the statement said.
According to an e-mail obtained by CNN, the company issued the order to all KBR employees in Iraq, Afghanistan and Kuwait -- although in its communications with CNN, the company specified only Iraq. In the e-mail, employees are ordered to stop using their cell phones as of 8 a.m. Saturday and turn them in to the company's human resources department.
"Any individual using a personal cell phone will be disciplined," the e-mail says. "Termination is an option of discipline. The cell phone will be confiscated."
According to the e-mail, employees will be given a receipt when they turn in their phones, which will be returned to them "when the individual departs the site."
Haris Memisevic, the KBR quality manager in Afghanistan who forwarded the e-mail to some employees, said he could not discuss the matter and referred calls to KBR's legal department.
Don't Miss
A KBR employee, who asked to remain anonymous, said he was "not aware of any security breaches involving the use of cell phones" and that employees were not given any reason for the order.
He said he has no plans to comply and believes his personal security would be at risk without his cell phone.
"KBR has a communication system, but as with any system it does fail and we can only communicate with another installation by use of the cell phones," he said. "We pay for this use with our own funds."
Some corporate employees have company-provided cell phones, he said, but at his location there is only one company-provided phone for use if the communication system fails. He said the U.S. Army confiscates cell phones from Afghans who work at military installations and returns them when they finish their daily duties.
An Army spokesman told CNN on Saturday that the order is strictly a KBR initiative.
E-mail to a friend

All About KBR Inc. • Iraq War • Afghanistan War