From Emily Sherman
CNN

(CNN) -- A plane carrying 123 people, including seven members of Congress, was forced to make an emergency landing Tuesday due to mechanical issues, the Federal Aviation Administration said.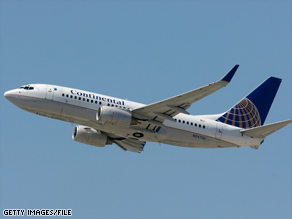 A Continental flight carrying seven Texas lawmakers made an emergency landing Tuesday, the FAA says.
The pilot of Continental Airlines Flight 458, a Boeing 737 en route to Washington from Houston, Texas, made a rapid descent into New Orleans, Louisiana, after the pilot reported pressurization problems, the FAA said.
The plane landed safely in New Orleans with no injuries, it said.
Among the passengers were former Republican presidential candidate Ron Paul and six other Texas congressmen: Republicans Ted Poe and John Carter, and Democrats Nick Lampson, Henry Cuellar, Solomon P. Ortiz and Ciro Rodriguez, Lampson's office told CNN.
The jet, which departed Houston at 2:20 p.m. (3:20 p.m. ET), landed in New Orleans at 3:15 p.m. (4:15 p.m. ET), said Continental spokeswoman Julie King.
E-mail to a friend