NEW YORK (CNN) -- When Scott Hoover bought a $5 scratch-off ticket in Virginia called "Beginner's Luck" last summer, he carefully studied the odds. Even though he figured his chances of winning were a long shot, he felt the odds were reasonable.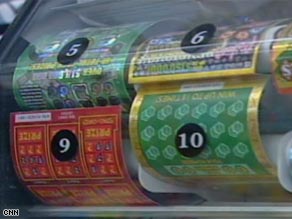 In July, USA Today estimated about half of the 42 states with lotteries sold tickets after top prizes were claimed.
Hoover, a business professor at Washington and Lee University in Virginia, wasn't surprised when his tickets didn't bring him the $75,000 grand prize, but he was shocked to learn the top prize had been awarded before he bought the ticket.
"I felt duped into buying these things," Hoover said.
He discovered the Virginia State Lottery was continuing to sell tickets for games in which the top prizes were no longer available. Public records showed that someone had already won the top prize one month before Hoover played. He is now suing the state of Virginia for breach of contract.

Is this a scratch-off scandal? »
"It's one thing to say it's a long shot to win the $75,000, but it's another thing to say you have no shot to win it," said John Fishwick, Hoover's attorney.
Through a request filed under the Freedom of Information Act, Fishwick's firm was able to obtain records that showed the Virginia State Lottery sold $85 million in tickets for which no top prize was available. Fishwick says the state should pay $85 million in damages.
Don't Miss
Paula Otto, executive director of the Virginia State Lottery, said the state's games are fair and the top prize money is actually a small percentage of the money given out to lottery players. Most of the players win through the second, third or fourth-place prizes, she said. Otto also said it's no longer possible in the state of Virginia to purchase tickets with no top prizes available.
"We absolutely have always been very open and honest with our players about the way our scratch tickets are distributed," Otto said. "Yes, there were times when there was a scratch game out there that might've said "zero" in terms of the number of top prizes, but our players knew that."
Otto would not comment on the lawsuit, but said she stands by the integrity of the games in Virginia and looks forward to vigorously defending them.
Virginia isn't the only state to sell tickets that have no top prizes available. USA Today estimates that about half of the 42 states that have lotteries were, as of early July, continuing to sell tickets after the top prizes are claimed. Lottery officials from some states say the practice is fair because lesser prizes are still available, and they say tickets and lottery Web sites make that clear.
In New Jersey, tickets for the "$1,000,000 Explosion" scratch-off game were still on sale last week, even though the million-dollar grand prize was already awarded.
Lottery ticket buyers outside a New Jersey convenience store were stunned to hear the news.
"Oh really? I didn't know that," one shopper told CNN. Another added, "That's just not right."
Dominick DeMarco, a spokesman with the New Jersey Lottery, said information about winning tickets and prizes is readily available on the lottery Web site and at retail outlets. However, officials are still looking for ways to improve on their procedures.
Still, Hoover hopes his lawsuit will alert lottery players in all states to be careful before they place their bets.
E-mail to a friend

All About Lottery Results • Personal Finance