By Mary Snow and Ashley Fantz
CNN

NEW YORK (CNN) -- Esmin Green died in a drab hospital gown, facedown on a waiting room floor, apparently ignored by hospital staff for more than an hour.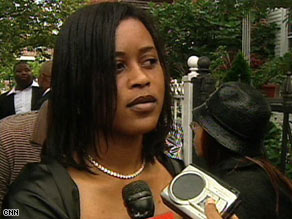 Too distraught to stand by her mother's casket, Tecia Harrison had to be held up by fellow mourners.
At her funeral Sunday in a tiny church in Brooklyn, packed with some people she didn't even know, she was dressed in lace gloves and a white chiffon suit.
"I'm so glad you're in my life/I'm so glad you came to save us," four children sang in a hymn at the Jesus is Lord Sanctuary.
The mourners sang along, many still reeling with anger and disbelief at the way their "Sister Green" was apparently treated last month at Kings County Hospital in Brooklyn.
Surveillance tape, later broadcast around the world, showed the 49-year-old mother of six sliding off of a chair in the waiting room of the hospital's psychiatric emergency department, eventually lying face-down on the floor, convulsing.
Green had been involuntarily admitted June 18 for what the hospital described as "agitation and psychosis."
Nearly 24 hours after her arrival, the camera recorded hospital workers looking at her body and appearing to ignore her. Finally, a hospital employee nudges her lifeless body with his foot and summons help. But it's too late.
Green died on the floor.

Watch how woman was ignored in hospital »
Autopsy results have not been released.
Green's death outraged many in her community. It tested the faith of some who attend her church, her pastor said.

A Jamaican immigrant in New York for more than a decade, Green spent years working at a daycare and other odd jobs to send money back home for her six children.
She suffered emotional problems for which she had previously been hospitalized, friends say. And most recently she had been distressed after losing her job and apartment.
On Sunday, the sight of her lying in a casket was too much for her oldest daughter, Tecia Harrison.
The 31-year-old had to be helped to stand.
Harrison, who lives in Jamaica, had not seen her mother in eight years and she refused to see her mother's last moments on the surveillance video.
"I don't think I have the heart or mind to watch it because that's my mother there," Harrison said earlier to CNN. "That's the woman who gave birth to me 31 years ago."
Pastor Marilyn Johnson called 911 after Green showed up at her doorstep on the morning of June 18 acting distraught. The decision now haunts her.
Green's death was "loss of a great, great sister in Christ," Johnson told the mourners.

Watch pastor mourn Green »
A procession of people with titles also attended the funeral. The consul general of Jamaica, the U.S. ambassador to Jamaica and several city politicians all promised to hold the hospital responsible for its apparent treatment of Green.
"She will not die in vain," said Geneive Brown Metzger, the consul general.
New York state Rep. Yvette Clark told mourners "the city's safety net has failed with disastrous effect."
Green was "disregarded, disrespected and discarded," she said.
Seven people have been fired or suspended for their alleged involvement in the incident: the chief of psychiatry, chief of security, a doctor, two nurses and two security guards, according to the New York City Health and Hospitals Corporation, which oversees Kings County Hospital.
Last week, the corporation said it was "shocked and distressed by this situation. It is clear that some of our employees failed to act based on our compassionate standards of care."
New York Civil Liberties Union said last week that the hospital staff falsified Green's records to cover up the time Green went without assistance.
A federal investigation of the hospital was under way when the incident involving Green happened. The probe was sparked by abuse allegations at Kings County detailed in a May 2007 lawsuit filed by the NYCLU and the Mental Hygiene Legal Service, which alleged conditions at the facility are filthy.
Patients are often forced to sleep in plastic chairs or on floors covered in urine, feces and blood while waiting for beds, and often go without basic hygiene such as showers, clean linens and clean clothes, the suit states.
News coverage of Green's death prompted several people to come to her funeral although they did not know her. Brown Metzger said she hoped Green's death would call attention to those alleged "appalling conditions."
Green's body is expected to be flown back this week to Jamaica, where she will be buried.
E-mail to a friend

CNN producers LaNeice Collins and Shirley Zilberstein contributed to this report.