From Jeanne Meserve
CNN

WASHINGTON (CNN) -- About half a million people are expected Friday on the National Mall in Washington for the nation's birthday celebration, but they may be shocked at what they see.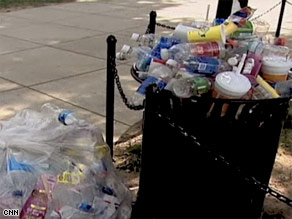 Trash piles up quickly on the National Mall, which the National Park Service said has 25 million visitors a year.
This gathering place known as America's "front yard" stretches from the Capitol to the Potomac River and is home to the Jefferson and Lincoln memorials and Washington Monument, but it's starting to look like "an old rundown, worn-out mall that looks like it was abandoned 30 years ago," says Judy Feldman of the National Coalition to Save Our Mall.
People are part of the problem. The National Mall has more visitors each year than Yosemite, Yellowstone and the Grand Canyon parks combined, according to the National Park Service.
"If you had 25 million people coming through your front yard, it might not look so nice either," said Bill Line of the park service.
The mall has an annual budget of about $31 million. But its backlogged maintenance needs are estimated at more than eight times that amount -- $258 million.

Watch more on the problems at the National Mall »
Among the most expensive projects include reinforcing a sinking seawall around the Jefferson Memorial and rehabilitating the World War I Memorial.
But there are other more pressing issues facing the National Mall, activists said.
"If you are in here and Johnny has to go to the potty you are in trouble ... there is no place to go," said Chip Akridge, who heads the Trust for the National Mall, which is raising private money to fix up the mall.
Restrooms, parking and transportation are all desperately needed, along with places to eat, activists said.
Akridge points to one snack tent, calling it Washington's "Tavern on the Green."
"This is America's front yard. You wouldn't have this in your front yard. ... No American wants it in this front yard," he said.
Feldman argues that big sums of money won't solve all the mall's problems.
"Picking up the trash, mowing the grass, watering the grass, putting in the flowers -- those are daily maintenance issues [that] shouldn't require $250 million extra," she said.
National Park Service officials said they think they do a good job, considering three to four tons of trash are generated on the National Mall on an average day.
With all the visitors on Independence Day, the park service expects as much as 18 tons, but officials promise all the garbage will be gone by Saturday.
E-mail to a friend

All About National Mall • National Park Service