(CNN) -- The state of Florida has agreed to buy nearly 200,000 acres of land from a major sugar producer in a $1.7 billion deal to help restore the Everglades, Gov. Charlie Crist announced Tuesday.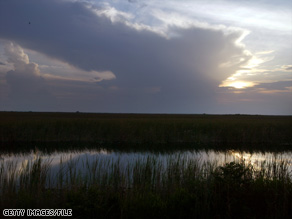 Development, flood control and agricultural runoff have shrunk the Everglades to half its former size.
Crist said the purchase provides "a critical missing link" that will restore the flow of fresh water from Lake Okeechobee into the Everglades, the massive South Florida marshland.
"It is as monumental as the creation of our nation's first national park, Yellowstone," he said. "This represents -- if we are successful, and I believe we will be -- the largest conservation purchase in the history of Florida."
The 187,000-acre tract -- about 292 square miles -- comes from the cane fields of U.S. Sugar, which will be going out of business within six years as part of the deal, CEO Bob Buker said.
"I stand here today with mixed feelings. On the one hand, I'm sobered and not a little bit saddened by the prospect of transition that lies before us -- a transition that sees new beginnings for us individually, and the end of the company that I led, six years from now," Buker said. "On the other hand, I'm excited about what we're doing here and what it means for the future of Florida and Florida's environment."
The company, which employs about 1,700 people, was part of a 1991 settlement with the federal government that launched efforts to restore the fabled "River of Grass."
Don't Miss
Decades of development, flood-control projects and agricultural runoff had caused the Everglades to shrivel to about half of the 11,000 square miles it covered in the early 20th century.
The Everglades Foundation, a conservation group that has been critical of the sugar industry in the past, called Tuesday's announcement "a once-in-a-generation opportunity."
"The significance of this cannot be overstated," the group's senior scientist, Tom Van Lent, said in a written statement. "This acquisition will provide the land needed to construct a reliable water supply for the Everglades much faster and at a lower cost than previously envisioned."
E-mail to a friend

All About Florida • Nature and the Environment