DES MOINES, Iowa (CNN) -- Orangutans and bonobos in one of North America's leading ape research centers are spending time high in their habitats to escape Iowa floodwaters, officials said Monday.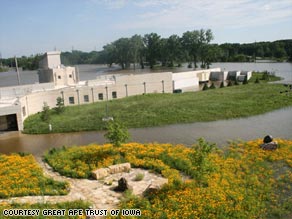 Floodwaters encroach on the bonobo facility at the Great Ape Trust of Iowa.
Water on the grounds of the Great Ape Trust of Iowa in Des Moines has been as high as 14 feet after flooding began last week.
Research, including the future and origins of culture, language, tool use and language in ape species, was brought to a standstill, officials said.
But at no time were the apes in danger.
"The parts that house the animals all have drains, and being wet is a part of their daily routine," said Al Setka, director of communications.
Animals moved to the highest levels of their living quarters when they wanted to stay dry, the trust reported. The orangutan habitat is 30 feet high, and the bonobo one is 25 feet high, according to the trust's Web site.
"Today, we are just trying to finish cleaning out the living areas to give the apes access to all of their indoor space," Setka said Monday.
The trust's Web site said the Des Moines facility, built in a former sand quarry, will be the largest in North America when it is completed.
E-mail to a friend

All About Iowa • Des Moines