(CNN) -- When most people think of Miami, they think of South Beach, with its glorious sands, glamorous people and gorgeous Art Deco buildings. In the 1920s and 30s Art Deco was the style of choice for the developers intent on turning Miami into a tourist hot spot and the Art Deco Historic District includes hundreds of examples of the style.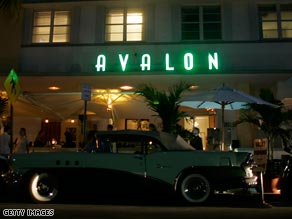 Take a tour of the Art Deco historic District.
The Art Deco Welcome Center (1001 Ocean Drive) is a good place to start, and no tour of the area would be complete without seeing the Marlin, Delano, National and Kent hotels in Collins Avenue, and the Crescent, Colony and Waldorf Towers hotels on Ocean Drive. Once you're done with the Deco, stroll among the boutiques and cafes of Lincoln Road, Washington Avenue and Ocean Drive.
For a dash of Latin flavor, head to Little Havana. Wandering along Calle Ocho, soaking up the sights and sounds, you could almost believe you're in Cuba. Drinking a syrupy "cafecito" bought from a walk-up window will help you suspend your disbelief.
Eccentric Coconut Grove is home to the Vizcaya Museum and Gardens (3251 S Miami Avenue). This beautiful building was created in the style of a 16th-century Italian villa by industrialist James Deering in 1916. The 30-acre gardens include Florentine gazebos and a waterfront terrazzo that looks like it's been towed straight from Venice. Inside, you'll find Deering's extensive collection of Italian art and antiques.
What are your Miami must-see sights?
The Coral Gables neighborhood is known as "The City Beautiful" and has a wonderfully Mediterranean feel. Gawp at the opulent villas that abound and then make your way to the most lavish of them all, the Biltmore Hotel (1200 Anastasia Avenue). This palatial construction was built in 1926, modeled on the Giralda bell tower in Seville, and beautifully captures the architecture of southern Spain.
While you're in The City Beautiful, take a dip in the Venetian Pool (2701 De Soto Boulevard). The ornate pool was transformed from a rock quarry in 1923, and includes decorative canals, fountains, waterfalls and coral caves, while palm trees and porticos provide some welcome shade.
In recent years, Miami has become something of a center for contemporary art. Sample the scene in Wynwood, an up-and-coming district that houses the Rubell Family Collection (95 NW 29th Street) and the Margulies Collection (591 NW 27th Street). In Downtown Miami, the Miami Art Museum (101 W Flagler Street) has an extensive collection of postwar art and some far out conceptual pieces.
The Design District is, as the name suggests, a hotbed of art and design. The Moore Space (4040 NE 2nd Avenue) is a vast gallery that showcases cutting edge art, while the façade of the Living Room Building (4000 Miami Avenue) includes an open-air recreation of a gigantic living room. Sitting on its oversized couch is a photo-opportunity not to be missed.
......................
Miami City Guide:
Where to stay | What to see | Where to be seen | Where to eat | Where to shop
Do you agree with our Miami picks? Send us your comments and suggestions in the "Sound Off" box below and we'll print the best
E-mail to a friend