From Jill Dougherty
CNN

WASHINGTON (CNN) -- The days of having nothing but an idle outdoor wait ahead of a U.S. Capitol tour appear to be over.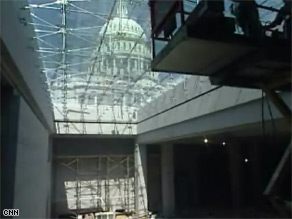 The underground visitor center, seen here under construction, has skylights allowing views of the Capitol.
The $621 million underground U.S. Capitol Visitor Center, which opens Tuesday following six years of construction, features exhibits, orientation theaters and a restaurant. It offers Capitol guests a more comfortable and educational experience, according to the office of the Capitol architect.
The facility, built under the Capitol's east grounds to make it unobtrusive, presents historic artifacts from across the country and teaches guests about the House of Representatives and the Senate. Admission is free.
Capitol tours will now begin and end at the center, which the government hopes will cut down on long outdoor waits.
"Over the years, as interest in the Capitol has increased, people have been standing outside in the extreme heat, cold and humidity waiting to get into this building," said Stephen Ayers, the acting architect of the Capitol.
People still will have to pass through a security screening before entering the center. But once inside, they'll have things to do before their tour.
In the center's exhibition hall, visitors can touch an 11-foot model of the Capitol's dome. The facility's skylights offer striking views of the 215-year-old building above.
Don't Miss
The three-level center takes up 580,000 square feet, roughly three quarters the size of the Capitol. The construction was $356 million over budget, partly because Congress redesigned the facility while it was being built and upgraded security plans for the center after the September 2001 terrorist attacks on New York and Washington.
But Ayers said the money was well spent.
"This is monumental architecture and monumental public space, and a place that's built for generations," Ayers said.
The government encourages visitors to book tours in advance, either on the center's Web site or through their congressman's office.
However, a limited number of same-day passes will be available at the Capitol Visitor Center, according to the center's Web site.
The number of visitors to the Capitol rose from 1 million in 1970 to more than 3 million in 2000, according to the architect's office. The yearly number dipped after the September 11, 2001, attacks, but it has rebounded to nearly 3 million, the office's Web site says.
E-mail to a friend

All About U.S. Capitol