By Marsha Walton
CNN

BARNSTABLE, Massachusetts (CNN) -- Whaling fleets nearly wiped out North Atlantic right whales last century. Now these huge mammals are threatened by other human behavior: big ships, fishing gear and entanglement in federal bureaucracy.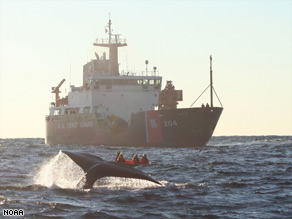 A U.S. Coast Guard ship assists in a 2005 attempt to disentangle a right whale from fishing gear.
For centuries, whale hunters nicknamed the species "right whales" because their mellow personalities, shallow feeding habits and lumbering, 70-ton bodies made them the easiest, or the right, whales to kill.
By the early 20th century, their numbers were so depleted that in 1935, hunting was banned.
Yet 73 years later, the species has not bounced back. Their habitat ranges from the Bay of Fundy off Nova Scotia, Canada, to the coast of north Florida.
These whales are among the most endangered species on the planet, with only about 300 of them still alive. But a measure aimed at protecting them is snarled and stalled in bureaucracy.

See pictures of some of the remaining whales »
That measure is a proposal from U.S. government scientists to require commercial ships to slow to 10 knots inside a 30-mile "bubble" near ports where and when these whales are migrating.

See where the endangered whales live and breed »
Right now, experts say, commercial ships kill about two North Atlantic right whales every year.
"We think that more animals are being killed than are being born, and there are a couple of main sources of human-caused mortality that we are trying to reduce," said Jim Lecky, director of the Office of Protected Resources at the National Marine Fisheries Service.
"Collisions with ships are the number one cause of mortality, and entanglement in fishing gear is the number two cause," Lecky said.
Because this animal is an endangered marine mammal, the fisheries service, a division of the National Oceanic and Atmospheric Administration, is charged with designing a recovery plan.
More than four years of NOAA research showed that speed kills whales. Above a speed of about 10 knots, a right whale's encounter with a large ship would probably be fatal.

See why scientists say the clock is ticking for the right whale species »
NOAA is in charge of the scientific aspects of these types of rules, the federal Office of Management and Budget must weigh in on their economic impact. The office was supposed to make a decision on the rule last year, but there is still no indication when it might act.
Many in the shipping industry oppose the speed limit, saying it would be too costly. A federal study concluded that slowing the ships near the whales will cost shipping companies about $112 million, or less than 1 percent of the $340 billion East Coast shipping industry income. iReport.com: Share your photos, videos of whales
The World Shipping Council, an industry group representing more than two dozen global shipping companies, filed documents with the U.S. federal government opposing the speed limits, saying the change would cause "significant economic costs."
The group even suggested that if large ships went faster through the whales' habitat, the chance of a collision would be lower.
"A quickly moving vessel will pass through the area quickly, and exposure will be small," the shipping council wrote in a document challenging the limits. "A slowly moving vessel will take longer to pass through the area, exposure will be greater, and the whale will have longer to surface or move in a way that increases jeopardy."
In response to the group's theory, Lecky said, "Would you speed through a school zone?"
The World Shipping Council referred CNN to the documents it filed with the government, but did not provide anyone for an interview.
Not all shipping companies oppose the rule. A smaller industry group, Chamber Shipping of America, filed a document with the federal government saying, "Our members believe the economic impacts associated with the proposed rule ... are well worth the benefits to preserving this most endangered species."
Whale experts say they are frustrated by the amount of time the proposal has languished without a "yea" or "nay" from the Office of Management and Budget.
Rep. Henry Waxman said the long, drawn-out process within the office and Vice President Dick Cheney's office is demoralizing career government scientists.
"I think many of the scientists who work for the government are very frustrated, and scientists outside of government are astounded to see the scientific method so abused by this administration. There's been a politicization of science to either ignore the science, rewrite it, or to suppress it," said Waxman, chairman of the Oversight and Government Reform Committee.
Waxman said the Bush administration thinks the "science shouldn't bind them. They're going to do what industry wants."

CNN made several requests to speak with officials at the Office of Management and Budget about the delay in action on the proposed rule. The agency's Jane Lee issued this statement: "We cannot comment at this time on an ongoing rulemaking process. We are confident, though, that the longstanding rulemaking process will provide an approach that will achieve our shared goals."
Members of Cheney's office said they do not comment on internal deliberations.
"Really good scientists, inside the government and outside, all agree on what to do to protect right whales, and yet, it's being thwarted at the administrative level," said Jacob Levenson, a biologist with the International Fund for Animal Welfare.
NOAA scientists say voluntary measures to slow down near whale territory have not been effective, and conservation groups agree.
"The industry is not going to do the right thing unless there is a universal requirement to slow down," said Vicki Cornish, vice president of marine wildlife conservation at the Ocean Conservancy.
"People don't realize that this is a drastic improvement to right whale protection that we can make pretty easily, with minimal impact," Levenson said.
"I don't know why it is collecting dust at OMB," he said.
E-mail to a friend

All About Endangered Species • Marine Animals • U.S. National Oceanic and Atmospheric Administration