By Jeanne Meserve
CNN

WASHINGTON (CNN) -- A controversial technology is being adapted to help ferret out people and drugs crossing the U.S. border illegally.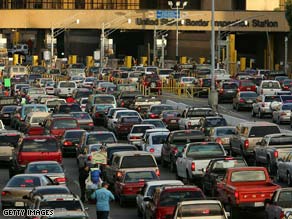 A high-tech portal will scan cars for illegal immigrants or drugs at this busy border crossing south of San Diego.
A new type of drive-through portal will use backscatter, a form of low radiation X-rays, to scan personal vehicles for illegal immigrants or contraband hidden inside.
The image produced by backscatter can be so revealing that privacy advocates have called the scanning of passengers at airport security checkpoints an "an electronic strip search."
However, a Customs and Border Protection spokesman said the portal used at the border will be much less revealing. According to the manufacturer, American Science and Engineering, a backscatter image of a person in a car will show "a silhouette with no facial or body detail. The system cannot be used to identify an individual, or the race, sex, or age of the person."
The first Z Portal, as it is called, is being deployed Thursday at the San Ysidro port of entry on the U.S.-Mexico border south of San Diego.
All passenger vehicles referred for secondary inspection will be put through the portal, which is described as looking like a large drive-through car wash. Drivers and passengers will be given the option of staying in the vehicle, or having a Customs and Border Protection agent drive it through.
Jenny Burke, a spokesman for Customs and Border Protection, said the portal is safe. "It would take 2,000 runs to equal the radiation you would get in one test X-ray."
The portal takes multiple images of a vehicle to better detect people or contraband hidden inside. Border agents view the images in real time. Even if nothing unusual is detected, agents will complete a secondary inspection, but CBP expects the scans to speed the process by targeting areas for manual searches.
The agency also hopes the technology will reduce the level of risk for border agents. "They don't have to deal up close and personal not knowing what might be there, " Burke said. "They have more awareness if they go in to inspect a vehicle."
Customs and Border Protection will be studying how the first portal performs at San Ysidro, but already anticipates that more will be deployed in the future. Spokesman Mike Friel said, "It will make the process more efficient and, we think, more effective."
CBP said it cost about $2 million to purchase and install the Z Portal at San Ysidro.
E-mail to a friend

All About Immigration • U.S. Customs and Border Protection • Technology