By Cherise Fong
For CNN
SHANGHAI, China (CNN) -- Gone are the days when it was enough to simply Google your name to find out what people were saying about you in cyberspace.
These days -- especially if you're a brand -- it takes a team of professionals backed by high-end technology to troll through the profusion of blogs, forums and other online communities to get the complete picture.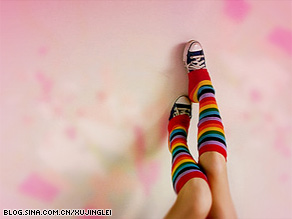 Actress and filmmaker Xu Jinglei was China's first celebrity blogger, and is now the most-read in the world.
Just last year, marketing information firm Nielsen spent a total of over $100 million to fully acquire BuzzMetrics, the New York-based company that pioneered the systematic tracking and analysis of Consumer-Generated Media (CGM), aka. Internet Word of Mouth (IWOM), ie. what everyone is talking about online.
In short, harnessing the Net is big business.
Now multiply any estimated number of posts by a googol, and you have an idea of the buzz that's building up in China.
"There are 210 million Internet users in China; that means 210 million publishers in China that can write anything they want," says Sam Flemming, founder and CEO of CIC, "the first IWOM research and consulting firm in China."
And according to the China Internet Network Information Center, 35.5 percent of these users frequent online message boards (BBS), while 23.5 percent write or read blogs.
Flemming started up CIC in 2003 in order to develop proprietary technology to mine and organize Chinese-language IWOM, while building a team of human consultants specialized in the Chinese market to analyze it.
By 2006, CIC's stable of clients included Fortune 500 firms such as Nike, Pepsi and L'Oreal in long-term, strategic relationships. But if they are almost all multinationals, Flemming says the barriers are not so much linguistic as cultural -- "in the sense of Net culture, youth culture," he adds.
No Net slang
"Netizens spend twice as much time on the Internet than they do watching TV," Flemming points out.
"When you go to a young person's home, it's their parents, grandparents on the sofa watching TV. They're in the corner downloading games, downloading video, chatting on [Chinese social networking site] QQ, writing on BBS, watching movies on the computer."
As to concepts like social networking, "QQ in China is social networking," retorts Flemming.
"They have QQ chatting, BBS, blogs, online identities, and they had a profit of over $220 million last year. Facebook lost $15 million."
Don't Miss
He continues: "The most-searched books on Baidu are Net novels, published on Internet only. Every year they'll be turned into real novels, then get turned into movies or TV shows. This Net-novel [movie] is going to star a Net star. That's Xiao Pang."
The computer screen flashes a familiar image of Little Fatty, the pudgy, pouty kid who was propelled to fame after netizens "PS-ed" (Photoshopped) his face into a series of visual spoofs widely circulated online, now cast in a feature film to be produced by New Line Cinema.
Meanwhile the authorities behind the national university entrance exam recently made a new rule: No Net slang. Apparently even academic officials fear the overwhelming popularity of such expressions as "PMP" (pai ma pi, or "kissing ass") and "PK" ("player kill"), which reality TV show hosts regularly use in reference to a duel to the death.
Riding the wave
China's Net impact should by no means be underestimated.
"Why did Carrefour freak out? How did those protests come about?" exclaims Flemming.
"You can argue about how many millions, but you can't argue about the impact of the Internet in China... It doesn't get everybody, but it does involve the most active, most passionate, most influential consumers."
He cites the example of one of the most successful viral campaigns of 2006: "Pepsi Creative Challenge." When the cola brand invited netizens to write a TVC script for the next Jay Zhou commercial, some 28,000 fans submitted scripts.
The contestants then invited friends to vote for their script, while others went out and campaigned to get people to go to the Pepsi site and vote. As a result of this zeal, millions were talking about the campaign.
"What's interesting is that Pepsi stole that idea from the online fan clubs," comments Flemming.
"Even before the contest, it's common for fans to write and post TVC scripts for their idols online, so this culture of fan fiction already existed.
"What Pepsi did was ride the wave of Net culture. They didn't try to create a splash, to create something completely new. They found something that already existed and they made it a huge platform."
Net stars
If "real world" pop stars are hot on the Net, online celebrities have also made it big in the real world.
Backdorm Boys (houshe nanhai), whose claim to fame is lip-synching to Backstreet Boys in music videos, have been featured in commercials for Pepsi and Motorola.
Sichuan Qiang-minority girl Tian Xian Mei Mei, candidly captured as a natural beauty in an online photo, was paid tens of thousands of RMB to be the spokesperson for Sony-Ericsson's low-end "Simple Happiness" mobile phone series.
Then there is Xu Jinglei, who as an actress, film producer and director was China's first celebrity blogger, and currently authors the most-viewed blog worldwide. In a commercial for AMD, she is seen writing her blog on a laptop computer, as armchair sofas race through the city streets. Suddenly she clicks the send button to upload her post, and a man sitting on a sofa instantly screeches to a halt right in front of her and cries victory.
The punchline illustrates the expression qiang shafa ("to grab the sofa"), which means to be the first person to reply to a blog posting. That's a good thing. And by the way, AMD means faster processors.
Big brother Nicole
On the glamour end of the spectrum, Lancome reached out to a particularly influential Internet celebrity stage-named Nicole Gege, who writes about cosmetics. He's the kind of guy who will wear the lipstick, do before and after pictures, and teach you how to apply. Lancome flew him to Paris for a roadshow so that he would go back and write about it.
"We can identify these guys," says Flemming on behalf of CIC.
"We don't pamper them. We can make the introductions and the brand or their PR agencies can work with them. But we make it very clear that in all communications it's important that the relationship be transparent."
Indeed qiangshou ("hired guns"), or seeders, who are recruited to post false comments to either promote a brand or diss its competitors, are unfortunately all too common in China's flourishing BBS communities. The good news is that they represent a mere fraction of the picture.
"We don't seed messages, we don't influence the conversation," says Flemming. "So in this case we can be a third-party auditor. Other companies, who do seeding plus measurement, would have a natural conflict of interests."
"Also," he reflects, "we don't believe in that. We think that that's polluting Internet Word of Mouth, hurting its credibility. So companies that do that are essentially biting the hand that feeds them."
Net cars
According to CIC, almost 6 million messages are posted every month on automobile BBS by some 300,000 consumers. Meanwhile research shows that 80 percent of netizens will go to a BBS to research a purchase, and 61 percent will ask a question there.
Flemming remarks that the auto-industry buzz is especially reflective of China's accelerated economic development.
"Here, no one had a car five years ago," he says. "When you buy a car, you don't have anyone to ask. You can't ask your dad about what kind of car you should buy. If you have a problem with your car, you can't just ask your dad or your neighbor or your friend. This is another reason why BBS is so important."
Shanghai opportunity
Flemming himself arrived in Shanghai in 1996 and fell in love with the "booming metropolis." Now 38, he blogs, he Facebooks, he Twitters, and he revels in the "optimism" of so many opportunities in China.
"I see friends working in multinationals for years leave to open their own companies," he says. "Or waidiren, [Chinese] people coming from outside Shanghai to start up their own business and becoming very successful. There's an 'anybody can do anything' kind of feeling here.
"To be a new media entrepreneur in China is perhaps one of the most exciting things I could do -- as well as one of the most difficult and challenging.
"But once you taste the buzz, you get that adrenaline rush, every single day it becomes a drug. You become addicted to being at the center of things. I don't know how I got here exactly, but I know that I'm gonna be here for a while."
E-mail to a friend