By Todd Leopold
CNN

(CNN) -- Ricky Gervais says he's not sure if the lead in "Ghost Town" -- an anti-social, cynical dentist named Bertram Pincus -- was written for him.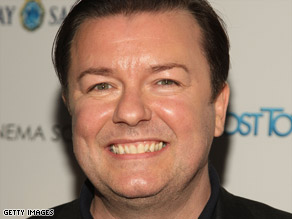 Ricky Gervais has established a career playing characters with an abrasive edge.
And he's not sure if he wants to know.
"I'm scared to ask," he says in a phone interview from Los Angeles, California. "[Writer-director David Koepp] says that when they first had the idea, that it should be played by me, [and] they never looked back. Now I don't know whether that was as they were coming up with it, or whether it was because they found out no one else was available. Steve Carell had said no, Will Ferrell had said no, Jack Black had said no, Ben Stiller had said no ... everyone had said no, and they went, 'Oh, is there no one ... I wonder if HE'S available.'
"I don't know which is closer. I'd like to think the first one's closer."
But, he adds, he was more than happy to take the role.
"When I read it, I thought, 'This is me,' " he says. "It was my voice; it's something I could have written. Even the lines sounded like that grumpy misanthrope I often play. And then they made it even more me."

Watch a clip from "Ghost Town" with Mr. Moviefone »
Indeed, Gervais, 47, has risen to fame playing characters who are, let us say, less than friendly. On the original UK version of "The Office," which he created with longtime writing partner Stephen Merchant, he played David Brent, the socially tone-deaf general manager of a paper company branch office who continually shocked co-workers with his immature jokes and patronizing attitude. He followed that as Andy Millman in "Extras," a borderline performer always angling for the main chance.
And in "Ghost Town," which came out on DVD Sunday, Gervais' Dr. Pincus can't stand to communicate with the ghosts he starts meeting after a near-death experience. He does have a bit of redemption. He strikes up a romance with Gwen (Tea Leoni), an antiquities expert, and ends up helping out a few of his late comrades. But in Gervais' portrayal, Pincus retains his abrasive edge.
Don't Miss
The movie earned generally good reviews and a decent box office upon its late-summer release, with the Boston Globe's Ty Burr comparing Gervais to a Hollywood legend. "Someone once said about W.C. Fields that he had the rare ability to despise amusingly. I can imagine no greater compliment than to say that Ricky Gervais seems, at his best, like a young Fields," Burr wrote.
That kind of misanthrope is the furthest thing from the Gervais of the phone interview, an engaging man who answers questions with patience and thoughtfulness. Asked why British actors play socially unpleasant roles so well, he ponders the question, makes asides to how often British actors play villains and "bumbling fops" and soon offers a disquisition on the differences between British and American culture.

Watch more insight on interviewing Ricky Gervais »
"I think we play the loser well because England's full of them," he says. "We celebrate our losers, we celebrate our underdogs, we celebrate those people -- [and then] we build them up and then we don't like them anymore. Whereas Americans celebrate success. Americans are brought up to believe they can be the next president of the United States. British people are told it won't happen to you. It sounds like a generalization, but it's true."
He adds that he just finished writing a film with Merchant called "The Man from the Pru," set in early-'70s England.
"It's about class, and it's about can you escape being born living, growing up and dying in the same street," he says. "I know that's the same the world over ... but it's because Britain is so small and so diverse.
"You really couldn't get out of your class before celebrity came along. The American class system always seemed a bit fairer to me, because it was built on achievement as opposed to blood."
Since Gervais likes to write his own material, he's careful about the roles he takes, even with Hollywood beckoning. "Ghost Town" was a good fit, he says, because he and Koepp hit it off so well.
"The whole thing was really collaborative," he says. "I'm not usually an actor for hire, but this was great."
Indeed, it's the collaboration that made it, he says. He welcomes that kind of bouncing ideas back and forth, and says he'd love to do something with Steve Carell, who plays the American version of Brent, Michael Scott, on the U.S. version of "Office." The two had a memorably hilarious exchange at this year's often unfunny Emmy show.
"I would love to host anything with Steve Carell," he says. "I would do a cat show with Steve Carell. I would do Computer Nerds' Mr. Universe with Steve Carell. So if anyone asks me if I will host a show with Steve Carell, the answer's yes."
Perhaps that could happen soon: Gervais' name is often bandied about in rumors about awards show hosting duties. However, he adds, he remains in the dark about it all.
"I'm on a list," he says. "But I don't know what that means."
E-mail to a friend

All About Ricky Gervais