By Fei Phoon
For CNN





LONDON, England (CNN) -- The geek crowd is in for another bumper year at the movies as filmmakers continue to make a beeline for the bits of pop culture that make fanboys high five.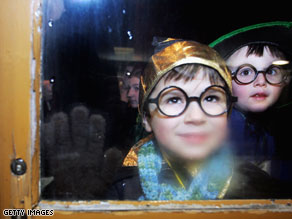 "Harry Potter and the Half-Blood Prince" -- based on the 6th book of author JK Rowling's bestselling series -- is one of 2009's most anticipated films.
Whether you are part of the 80s generation or just old enough to watch TV, it is likely that movie offerings in 2009 will bring out the diehard fan in you. Expect confident tributes to your favorite comics, Japanese animations, cult movies and books.
What movies are you looking forward to in 2009? Tell us in the SoundOff box below.
1. 'Fanboys'
(Kyle Newman, 2008)
It's 1998 and four Star Wars fans can't wait to see "Episode I." So much so that they concoct a plan to break into director George Lucas' pad, the legendary Skywalker Ranch in California, and steal the film for their own enjoyment. Additional fanboy kudos for a cameo by William Shatner as himself.
2. 'Coraline'
(Henry Selick, 2009)
One afternoon, mischievous and bored Coraline stumbles upon a secret door. It leads to a crazy parallel dimension where anything is possible and her parents are more caring and fun. But as ever, such good luck comes at a price. This quirky stop-motion animation is based on a dark novella by acclaimed fantasy author Neil Gaiman.
3. 'Blood: The Last Vampire'
(Chris Nahon, 2009)
Even Buffy might have a few problems competing with Saya, a 400-year-old demon-hunting vampire whose weapon of choice is a lethal Samurai sword. When she is sent on an undercover mission to an American military base in post-WWII Tokyo, she finds the perfect opportunity for a grand showdown against the highest-ranking vampire on Earth. The original 2000 Japanese animation was almost entirely in English, and its release on DVD was a hit in North America.
4. 'Watchmen'
(Zack Snyder, 2009)
This comic-based movie resurrects 1985 in an alternate universe, where the law has driven most superheroes into either retirement or vigilantism. But when a murdered man is revealed to have been a government-hired superhero, the superheroes uncover a terrifying conspiracy to eliminate them all, amidst heightened political tensions between the U.S. and the Soviet Union.
Watch: 'Watchmen' Trailer

5. 'Dragonball Evolution'
(James Wong, 2009)
Fans of the original 1984 Japanese Manga series "Dragon Ball" and its spin-off TV series have had mixed feelings about this live-action American adaptation. No doubt that the original simple premise will be preserved -- protagonist Goku journeys to seek the advice of a wise martial arts master, to gather the seven magical Dragon Balls before an alien villain can use them for his evil plans -- but will Hollywood be able to pull it off?
6. 'X-Men Origins: Wolverine'
(Gavin Hood, 2009)
Hugh Jackman is back with his outrageous hairstyle and lambchop sideburns, in a backstory about Wolverine's dark past and relations with fellow mutants two decades before becoming a supersoldier under the Weapon X program.
7. 'Star Trek'
(JJ Abrams, 2009)
The 1960s Star Trek franchise gets an ambitious revival, thanks to "Cloverfield" director JJ Abrams and other "Trekkie" fans in the industry. This will be the 11th film in the sci-fi classic's long history, and the all-new cast includes British comedian Simon Pegg.
Watch: 'Star Trek' Trailer



8. 'Terminator: Salvation'
(Joseph "McG" McGinty Nichol, 2009)
The epic battle between mankind's defender John Connor and an evil human-hating supercomputer from the future called Skynet continues well into 2018. Having defeated Skynet's cyborg assassins in past episodes, Connor gets to the bottom of Skynet's operations. Batman star Christian Bale will be Connor, who was famously played in the past by Edward Furlong and Thomas Dekker.
Watch: 'Terminator: Salvation' Trailer



9. 'Transformers: Revenge of the Fallen'
(Michael Bay, 2009)
The Autobots and the Decepticons once again come to blows in expensive and highly-destructive battles in this sequel to the highly popular "Transformers" live-action movie. Shia LaBeouf reprises his role as Sam Witwicky, the American teenager who finds himself deliciously caught up in the war between two alien races with sneaky disguise abilities.
10. 'Harry Potter and the Half-Blood Prince'
(David Yates, 2009)
JK Rowling's Harry Potter returns for a sixth year at Hogwarts, the school for magic and wizardry. Harry's time is split between training with Dumbledore for his impending ultimate battle and sniffing out trouble brewing within the school grounds. But is it too presumptive to say that fans will be most anticipating the soap-like confusion of raging teenage hormones and romantic tensions between the sixth-years at Hogwarts?
Watch: 'Harry Potter and the Half-Blood Prince' Trailer

11. 'GI Joe: Rise of Cobra'
(Stephen Sommers, 2009)
One of the world's favorite fictional good/evil dichotomies returns to outline the origins of the terrorist Cobra Organization, the main enemy of the American special mission team GI Joe. Plot details have been kept under wraps, but filming locations have been said to include the Arctic and the Sahara desert. A great excuse to revisit the characters to which we owe the coinage of the term "action figure."

12. 'Astro Boy'
(David Bowers, 2009)
After his beloved son dies in a tragic accident, a genius scientist recreates him in the form of a cute, pint-sized android. "Astro Boy," as he comes to be known, embarks on a journey to discover the meaning of his existence and uses his superhero powers to defend humans from robot enemies. This polished American-made animation features the robot first created in 1952 by the legendary Japanese Manga artist, Osamu Tezuka.
13. 'The Witchblade'
(Michael Rymer, 2009)
Little has been revealed about the cast and synopsis of this movie, which is based on the 1990s comic about a female homicide detective who acquires a mysterious gauntlet, which bestows superhuman powers on its wearer. The official Web site and a teaser poster promise its release in 2009. For now, fans are advised to check http://www.witchblade2009.com for updates.

14. 'Inkheart'
(Iain Softley, 2008)
Cornelia Funke's trilogy of books brings us a bookbinder named Mo, who by reading books aloud, has the magical ability to make the characters come alive. But after a tragic incident where several wicked characters swap places with his beloved wife, he refuses to ever read to his daughter Meggie. An evil ex-book villain then uses Meggie as bait to capture Mo, but the tables are turned when she discovers that she has the same talent.

15. 'Streetfighter: The Legend of Chun-Li'
(Andrzej Bartkowiak, 2009)
With little or no hints to go on from the production team, desperate fanboys can only head for their nearest arcade center to reminisce over Chun-Li's notoriously high-slit skirt, coupled with her signature helicopter kick. And by the way, Smallville star Kristin Kreuk will be playing Chun-Li.

E-mail to a friend