By Grace Wong
For CNN
LONDON, England (CNN) -- There was a time when action heroes didn't contemplate. They defeated the bad guy and let their bodies do the talking for them. How times have changed.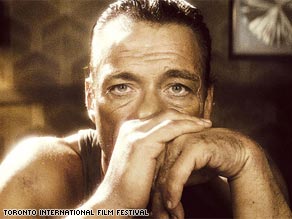 Blast from the past: Jean-Claude Van Damme plays himself in "JCVD."
Action movies can still be a big draw at the box office -- "The Dark Knight" has grossed nearly $1 billion worldwide, according to BoxOfficeGuru.com -- and action sequences have never been more intricate or thrilling.
But audiences these days are demanding more of everything -- more adrenaline, more emotion, more complexity. The action movies today are a far cry from the ones that helped spur the rise of the genre in the 1980s, when hard bodies like Arnold Schwarzenegger merely had to flex their muscles and utter monosyllables to generate a following.
Everything was more straightforward for the tough guys of yesteryear. Sylvester Stallone, Bruce Willis and Arnie tackled problems with big guns, big muscles and big egos. There was a clear division between good and evil, and machismo conquered all.
These days, the tough guy persona is giving way to more multifaceted characters. Watching the hero beat up the bad guy is old hat; understanding the source of his rage makes the action far more riveting. What do you want from an action hero? Tell us in the SoundOff below.
The most successful action film this year, "The Dark Knight," is filled with dynamic characters (Heath Ledger is hotly tipped to pick up a posthumous Oscar for his portrayal as The Joker) and delves into the intricacies of everything from heroism to anarchy. The violence is rife, but it's not meaningless.
In other popular movies like "Quantum of Solace" and the Bourne series, high-octane chase scenes are what get your pulse racing. But it is Bond's (Daniel Craig) battered emotional state that anchors "Quantum's" story. For Jason Bourne, played by Matt Damon, the quest to recover his memory and identity is what adds emotional depth -- and advances the story enough to keep it interesting over three films.
In contrast, films like "Transporter 3," whose macho hero Frank Martin harks back to the self-reliant tough guys of action flicks past, has been mostly panned for its weak story and mindless action.
Even action men of earlier decades are out to prove they aren't just fighting machines. Jean-Claude Van Damme, the so-called "Muscles from Brussels" who made a name for himself in the 1980s with his killer martial arts moves, lets his guard down in the parody "JCVD," due out in the UK in February.
Van Damme basically plays himself -- a downbeat actor dealing with the collapse of his family life -- and delivers a performance that entertainment trade publication Variety said "constitutes the headiest stretch of the beefy star's career since, well, ever."
Mickey Rourke, another tough guy, earned a Golden Globe nomination for playing a broken down fighter in "The Wrestler," and could be tipped for an Oscar as the Golden Globes are considered to be a harbinger of the Oscars. In a role that he says struck close to home, he plays a washed-up wrestler whose daughter wants nothing to do with him.
Aside from the hard bodies, action stars of today barely resemble their counterparts from decades earlier. Audiences appear to want more than high-octane sequences from their action heroes, and that's not a bad thing.
E-mail to a friend