(CNN) -- The former U.S. special envoy to the Middle East said Tuesday that President-elect Barack Obama should engage with Hamas under certain conditions, and sooner rather than later.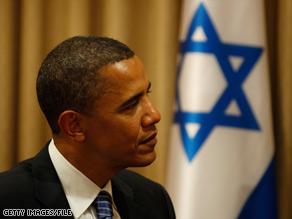 Barack Obama had high hopes for a peace deal when he visited Israel in July.
Retired Gen. Anthony Zinni said if Obama hopes to forge a peace deal, he needs to do it at the beginning of his administration.
"You make a commitment that no matter what happens, you'll stick with it," Zinni said on CNN's "American Morning." "We have enough agreements in principle that never worked out. I would say -- start from the beginning, be determined, stick with it and don't repeat the mistakes of the past and the processes of the past that did not work."
In order for the new administration to engage with Hamas, Zinni said the militant group must be willing to end its rocket attacks and violence against Israel and commit to a peace process.
In the long term, Zinni said, the next administration will have to take a new approach in dealing with the problem.
"The old way of using envoys and summits and us putting plans on the table -- that has never worked. I think we need a fresh start, more involved, a greater presence on the ground and a commitment to do it throughout the term of an administration," Zinni said.
A fourth day of Israeli airstrikes pounded Gaza on Tuesday, in what Israel's defense minister has called "an all-out war" with Hamas. Israel says the attacks are a response to escalating rocket attacks against southern Israel.
Don't Miss
The recent airstrikes on Gaza are just the first stage of a wider military campaign approved by the Israeli Cabinet, Israeli government officials said Tuesday.

Learn more about Gaza's politics and history »
This crisis is a fresh reminder of the challenges the president-elect will face, but so far, Obama has deferred to President Bush, standing by his statements that "there is only one president at a time."
Bush has put the blame squarely on Hamas and has taken a pro-Israel stance.

Watch more on the White House's stance »
Obama is said to be monitoring the situation closely. He has been in contact with Secretary of State Condoleezza Rice, incoming Secretary of State Hillary Clinton, and retired Gen. Jim Jones, Obama's pick for national security adviser.
The turmoil in the Middle East only adds to the unprecedented number of crises awaiting Obama's arrival at the White House, with wars in Iraq and Afghanistan, tensions between India and Pakistan and the U.S. financial crisis.
"There are a few more biblical plagues that could occur, but not much else," said Larry Sabato, founder of the University of Virginia's Center for Politics. "It's a good thing he named his team early, because they are going to need every day and every hour before January 20 to get ready."
When Obama visited the region in July, he declared his unequivocal support for Israel and had high hopes for a peace deal. iReport.com: 'Obama is going to have to get involved'
"I'm here on this trip to reaffirm the special relationship between Israel and the United States and my abiding commitment to Israel's security, and I hope I can serve as an effective partner, whether as a United States senator or as a president, in bringing about a more lasting peace in the region," he said while in Jerusalem.
Clinton said earlier this year that until Hamas renounces terrorism and recognizes Israel, "negotiating with Hamas is unacceptable for the United States."
Obama has pledged to make Middle East peace a priority from the beginning of his presidency. Arabs are calling for a more even-handed approach than that of the Bush administration, but Obama demonstrated a pro-Israel posture during the campaign.
"It's clear the Israelis have political cover from the Bush administration, and what they're essentially doing is putting the incoming administration on notice that they've taken note of what the President-elect has said," said Steven Cook, with the Council on Foreign Relations.
Asked Sunday if the Obama administration would be as supportive of Israel as the Bush administration has been, Obama's senior adviser said the president-elect would "honor" what he sees as "the special relationship between the United States and Israel."
"But he will do so in a way that will promote the cause of peace, and work closely with the Israelis and the Palestinians on that -- toward that objective," David Axelrod said.
E-mail to a friend

CNN's Ed Henry and Jim Acosta contributed to this report.
All About Barack Obama • Gaza • Israel