(CNN) -- A lobbyist who was romantically linked to Sen. John McCain in a New York Times article has sued the paper for $27 million, saying the story has damaged her career and "sense of personal self-worth."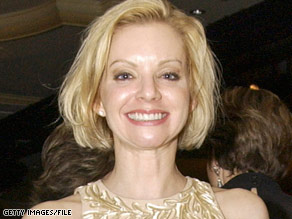 Vicki Iseman is suing editors and reporters at the New York Times who worked on a story about her and Sen. McCain.
Vicki Iseman sued the New York Times Company and writers and editors who worked on the front-page story, which she said falsely intimated she had an affair with the senator and used their relationship to gain perks for her clients.
"The damage to Ms. Iseman caused by the story has continued to the present and has not abated," the lawsuit said. "The article destroyed the heart and soul of Ms. Iseman's professional identity and sense of personal self-worth."
The Times issued a statement saying it stands by the story, according to the Richmond Times-Dispatch.
The lawsuit charges that The New York Times acted with negligence and malice in publishing the article, having "utterly failed to find evidence supporting their preconceived hypothesis that Sen. McCain and Ms. Iseman had a romantic relationship."
The lengthy report, which ran February 21, said McCain aides became so concerned about the relationship between the two that they blocked her access to the senator during his first campaign for the Republican presidential nomination.
The lawsuit details comments that reporters and editors from other media outlets made about the story in which they said the Times implied an inappropriate or romantic relationship.
The lawsuit said that the relationship between Iseman and McCain "was entirely ethical, professional and appropriate."
It also noted the article included that Iseman and McCain denied having a romantic relationship.
"These denials, which most readers would understand as 'obligatory,' and therefore what Ms. Iseman and Sen. McCain would be expected to say, did not negate the defamatory meanings that otherwise pervaded the article."
As a result of the article, the lawsuit said, Iseman found that "professional associates, clients, members of Congress, congressional staffers and others that were vital to Ms. Iseman's livelihood and reputation changed their attitude about her."
E-mail to a friend

All About The New York Times Company • John McCain • Vicki Iseman