(CNN) -- Roland Burris, the longtime Illinois politician appointed to fill President-elect Barack Obama's Senate seat by Illinois Gov. Rod Blagojevich, spoke to CNN's Tom Foreman on Tuesday night. Here is a transcript of that interview.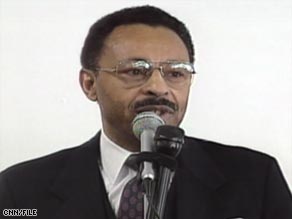 Roland Burris has been nominated to fill the Senate seat vacated by President-elect Barack Obama.
CNN: Roland Burris joins us live from Chicago, Illinois.
I have to start with the most obvious question. If all of the big Democrats in Washington say they won't work with you, won't recognize you, if Barack Obama says he doesn't want you in the seat, if the leading Senate Democrat there in Illinois says he doesn't want you there, how are you going to get this important work done if all these people won't work with you?
Burris: Well, I think that once those persons really get down to it and face Roland Burris and understand that I have nothing to do with the governor and his problems, that I have experience in serving this great state of Illinois and all 13 million people admirably, honorably, and aggressively.

Learn more about Roland Burris »
I spent 20 years in the Illinois government serving the people and my heart is in the right place for the people of Illinois and to also make a difference with the crises that we're facing in our country.

Watch Burris defend his appointment »
I'm a public servant by heart. I'm a public servant by commitment, and that's what I seek to do. And what the governor's problems are, they are not my problems. I am not tainted by this appointment.
The governor followed the 17th amendment to fill the vacant seat. That's all that's there. All of this other action is conjecture. And being a former attorney general of my state, I know the law in terms of the person is innocent until he is proven guilty in the court of law. And that's what Blagojevich should have. And if he's found guilty, then he should serve his time and get punished for whatever he did that's wrong. But that doesn't have anything to do with the 13 million people of my state being absent of a representative in the great United States Senate.
CNN: Well, Mr. Burris, that said, it seems from the accolades that an awful lot of people do think very highly of you, but they don't want anything to do with Blagojevich and now because he picked you, you do have something to do with him. What do you say to those folks? How do you make them not feel that way?
Burris: Well, I'll tell them. As the governor said and as Congressman Bobby Rush said, you've got to separate the appointee from the appointer. That's all it is. He followed the law, he made an appointment. That has nothing to do with how I'm going to serve, how I'm going to carry out my duties as a United States Senator. That has to do all about the governor. Those are his problems. They're not mine, and therefore, he picked the person who is ready, willing, and able to go into the Senate and be prepared to work on behalf of the people of Illinois and the people of America.
CNN: One of the phrases used today to describe any effort to stop you, the word used -- maybe an unfortunate word -- was a lynching. Do you think it is appropriate for that type of racial overtone to be put on this race?
Burris: Well, no. No, I have not spoken to race at all.
CNN: No, you did not. But you stood alongside folks today who did talk about race. Is that appropriate? Or should that be no consideration in this?
Burris: Well, let me put it this way. As a fact, since Sen. -- President-elect -- Obama has left, there's no black person in the United States Senate. It just so happens that God made me a black person. That has nothing to do with my abilities and skills --
CNN: Which is precisely my point here. Rep. Bobby Rush said today he would rally the Congressional Black Caucus behind you specifically speaking to the issue of race. Do you think that's appropriate? Or do you think this should be purely about your record?
Burris: Well, I think that certainly is not the major issue. And the fact that -- and why those persons will not seat me is a question that they're really going to have to answer, because I have done no wrong. And they're going to deny the people of Illinois a qualified person to go in and help carry out the duties and responsibilities to represent them because of another matter that has nothing to do with my serving? I think that there are, you know, situations where the individuals are caught up in the problems with the governor, which are not the problems of Roland Burris.
CNN: You're a very experienced man in politics. You know full well that people are saying that you're being used as a puppet of the governor to cover up his problems precisely because you have nothing to do with them. How do you respond?
Burris: Well, I respond in this way. Is it a law under the 17th amendment of the United States Constitution that the governor of a state has a right to fill a vacancy, an absence? It is a law and the governor did follow the law. That's all I say on that point. That's all there is.
CNN: Last question. The Illinois secretary of state has said he will not certify your appointment. Powerful people in Washington say they will fight it. How far are you prepared to take a battle on this? A legal battle if need be to the U.S. Supreme Court? How far will you go to try to get this seat?
Burris: Well, we will take it one step at a time. It's a process. And we must first deal with my good friend who I know very well, I talked to him this morning, the secretary of state. And we're pretty sure that the distinguished secretary of state will recognize that the appointment is legal. And if the appointment is legal, the problems that the governor has have absolutely nothing to do with my serving. And the United States Senate and the Democratic Caucus will recognize the same thing, that the appointment was legal and it has absolutely nothing to do with my ability to serve and represent the 13 million people of the great state of Illinois.
CNN: Do you think the governor should resign?
Burris: I have no opinion on the governor's problems, but as a former prosecutor of my state, we know a person is innocent until they're proven guilty in a court of law.
CNN: Fair enough. Thanks very much.
Burris: My pleasure.
CNN: Thank you very much for joining us live from Chicago.
E-mail to a friend

All About Rod Blagojevich • Barack Obama • Illinois