(CNN) -- As the violence rages in Gaza, President Bush is putting the blame squarely on Hamas, while President-elect Barack Obama is keeping a low profile and sticking by his belief that "there is only one president at a time."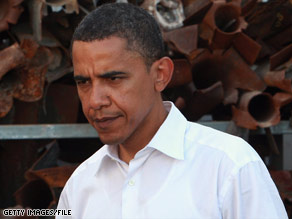 Barack Obama reiterated his support for Israel when he visited Sderot in July.
But with less than a month until the inauguration, the president-elect could inherit an international crisis -- one he will not be able to defer to Bush.
Israeli airstrikes pummeled Gaza for a third day Monday as part of what Israel's defense minister called "an all-out war" with Hamas. Israel says the attacks are a response to escalating rocket attacks against southern Israel.
Israel has tanks on the border and has approved the call-up of 2,000 reservists, but there was no indication of a Israeli ground incursion Monday. However, Israeli politicians say that all options are on the table.

Watch more on the violence in Gaza »
When Obama visited war-torn Sderot in July, he declared his unequivocal support for Israel.
"I'm here to say that -- as an American and as a friend of Israel -- that we stand with the people of Sderot and with all the people of Israel," he said.
Obama said that it is in the interest of Israel's security to arrive at a lasting peace with the Palestinians. He also said that Israel had a right to defend itself against rocket attacks from Hamas, the Palestinian militant group that rules Gaza.

Learn more about Gaza's politics and history »
Asked Sunday if a land invasion would change how the Obama administration views Israel, Obama's senior adviser yielded to Bush.
"The fact is that there is only one president at a time. There's only one president who can speak for America at a time. And that president now is George Bush," David Axelrod said on CBS' "Face the Nation."
The president-elect is said to be monitoring the situation closely. He has been in contact with Secretary of State Condoleezza Rice, and Hillary Clinton, the incoming secretary of state.
Democratic strategist and CNN contributor Hilary Rosen said that the Obama administration probably will now put the situation on the "front burner."
"They've got a big job ahead of them to stay firm for Israel, but make the Palestinians trust them enough to come to the table," she said.
Obama has pledged to make Middle East peace a priority from the beginning of his presidency. Arabs are calling for a more even-handed approach than the Bush administration, but Israel is expecting Obama to stay true to the pro-Israel posture he showed during the campaign.
Obama also has said he believes that Jerusalem will be the capital of Israel, remarks that have caused concern among some Palestinian leaders.
Earlier in the summer, his campaign spent several days clarifying his position after he said in a speech that Jerusalem should not be divided. Obama said he used "poor phrasing."
"The point we were simply making was, is that we don't want barbed wire running through Jerusalem ... that it is possible for us to create a Jerusalem that is cohesive and coherent," he said.
Obama said it was in the interest of Israel's security to arrive at a lasting peace with the Palestinians.
"I think if you look at the signals President-elect Barack Obama put forward in the campaign, he was talking about defending Israel. I think you are going to see a lot of caution as they move forward strategically," said Leslie Sanchez, a Republican strategist and CNN contributor.
Asked Sunday if the Obama administration would be as supportive of Israel as the Bush administration has been, Axelrod said the president-elect would "honor" what he sees as "the special relationship between the United States and Israel."
"But he will do so in a way that will promote the cause of peace, and work closely with the Israelis and the Palestinians on that -- toward that objective," he said.
But one analyst of the Israeli-Palestinian conflict cautioned against putting "dangerously high" expectations on the incoming administration.
"I think the tone of American politics will change: You're going to get a serious effort on behalf of the new administration," said Aaron David Miller, a public policy scholar at the Washington-based Woodrow Wilson International Center and a former adviser to six secretaries of state on Arab-Israeli relations.
But, he told CNN, "the fact is that unless the Israelis and Palestinians are prepared -- which they're not right now -- to take the political decisions required to overcome the gaps and to sell an agreement to their respective constituents, there's not much a new president, no matter how bold or charismatic he may be, is going to be able to do about that."
E-mail to a friend

All About Barack Obama • Gaza • Israel