From Paul Steinhauser
CNN Deputy Political Director

WASHINGTON (CNN) -- A new national poll suggests that almost a quarter of Americans think that Dick Cheney is the worst vice president in American history.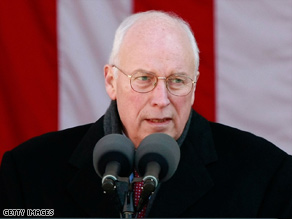 Vice President Dick Cheney says he's comfortable with his accomplishments and isn't troubled by his ratings.
Twenty-three percent of those questioned in a CNN/Opinion Research Corporation survey released Monday say that Cheney is the country's worst vice president, when compared with his predecessors.
An additional 41 percent feel that Cheney is a poor vice president, with 34 percent rating him a good number two.
Only one percent of those polled say that Cheney is the best vice president in U.S. history.
"On the Sunday talk shows, Cheney took on the job of making the affirmative case for the Bush legacy," said Keating Holland, CNN polling director. "But the messenger may be getting in the way of the message."
Cheney steps down as vice president January 20. He will be succeeded by Vice President-elect Joe Biden.
Although extremely unpopular, Cheney will leave office as one of the most powerful vice presidents in history. He played a crucial role in many of the Bush administration's crucial policies and was a major proponent of using and expanding executive powers.
"Cheney still has a lot of fans in the Republican Party. Most Republicans nationwide said Cheney had been a good veep," Holland said. "But six in 10 independents and eight in 10 Democrats gave Cheney a rating of 'poor' or 'worst ever.' "
In an interview Sunday, Cheney said he was not troubled by polls suggesting he was unpopular.
"I'm very comfortable with where we are and what we achieved substantively. And frankly, I would not want to be one of those guys who spends all his time reading the polls. I think people like that shouldn't serve in these jobs," Cheney said on "Fox News Sunday."
The CNN/Opinion Research Corp. poll was conducted Friday through Sunday, with 1,013 adult Americans questioned by telephone. The survey's sampling error is plus or minus 3 percentage points.
E-mail to a friend

CNN's Ed Hornick contributed to this report.
All About Dick Cheney