By Lisa Desjardins
CNN Radio

WASHINGTON (CNN) -- Remember "drill, baby drill"? In its last weeks in office, the Bush administration is starting to make it happen by quietly starting the process of exploration and drilling off the coast of Virginia.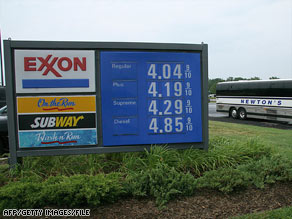 As the price of gas surged past $4 a gallon this summer, U.S. drilling became a hot political issue.
The move means that President-elect Barack Obama and brand new interior secretary nominee Ken Salazar -- a Democratic senator from Colorado -- will have to jump feet-first into the decades-old debate over offshore oil drilling. It's an issue where the two disagreed at one point.
Wait. Virginia?
The state is ground zero for the drilling debate because of possible reserves off the coast and what energy experts see as a friendlier government than elsewhere.
The U.S. Interior Department has completed the first step, closing a public comment period on the proposal to lease 2.9 million acres of ocean to natural gas and oil companies. The pie-shaped area begins 50 miles off Virginia's coast, straight out from Virginia Beach on the south and across from Virginia's boundary on the Delmarva peninsula to the north.
"The East Coast really has not been looked at for 30 years," said Randall Luthi, who heads up the drilling plan as director of Interior's Minerals Management Service. Luthi spoke from his Washington office to CNN Radio.
"Our best guess is that area could contain about 130 million barrels of oil and 1.14 trillion cubic feet of natural gas," he said.
Such an oil find would be small compared with the estimated 40 billion barrels in the Gulf Coast. The natural gas is more substantial. But both are symbolic of a rare window of opportunity for the energy industry.
A two-fold ban on Outer Continental Shelf drilling ended in just the past two months.
As the price of gas surged past $4 a gallon this summer, U.S. drilling became a hot political issue. President Bush responded by repealing a presidential offshore drilling ban put in place by his father. Then in October, a gridlocked Congress let a separate drilling moratorium expire after 26 years on the books.
Back in Virginia, environmentalists echo their Southwestern counterparts, calling the offshore push a last-ditch energy grab.
"We've got an administration on its way out, trying to make its last deal for the oil and gas industry," said Glenn Besa, director of Virginia's Sierra Club chapter.
Besa pointed to what he sees as a platoon of red flags.
"The Navy has a lot of operations out there, in the area where this drilling takes place," he said, "And the North Atlantic right whale, there's only 300 or 400 of those individual whales left, and they migrate through that area as well."
The Navy has expressed concern about the prospect of drilling rigs in the area where much of its Norfolk fleet trains. NASA has objected as well because it launches satellites and low-altitude rockets from its facility on Wallops Island, Virginia.
The state's Democratic governor, Tim Kaine, asked the Interior Department to let Virginia research possible natural gas reserves. But the agency went further, opening the process for oil and gas leasing.
Luthi defends the move without hesitation. "Oil and gas are going to continue to be a major part of our energy needs in this country," he said, "for at least the next generation."
The Minerals and Management chief calls this the start of a long research and regulation period. He said that under ideal conditions, actual leasing of the ocean area could not begin until 2011.
But, the next administration could either promote or stop the process cold.
Obama could simply direct the Department of the Interior to freeze the offshore process. He could also issue another presidential ban on offshore drilling.
Or he could let the idea go forward, something his new nominee to head the Interior Department has favored.
Earlier this year, Salazar was part of a bipartisan group of lawmakers that wanted to open up Outer Continental Shelf drilling in exchange for more investment in low-carbon technology.

Watch: Salazar pick criticized »
At the time, then-Sen. Obama was in the other camp, sharply opposed to offshore drilling. But that changed during the campaign, when gas prices were high and politically explosive. Candidate Obama said that he rethought his position and that "responsible" offshore exploration is part of the total energy picture.
The bold-faced question mark is, where will Obama stand on January 20 when he takes office?
Besa is counting on the incoming president to lean left and stop Virginia drilling.
"I do think that the environmental community's voice will be heard," he said.
But in the Bush camp, Luthi is trying to turn the change in power to his advantage, "That's one reason we started [this process], was to give the new administration an option." he said.
E-mail to a friend

CNN's Alanne Orjoux contributed to this report.
All About Oil Production and Refining • U.S. Congress