From Rachel Streitfeld
CNN





WASHINGTON (CNN) -- When President-elect Barack Obama takes the oath of office next month, the nation's capital will be the site of a massive celebration. But local officials are worried they might get stuck with the check.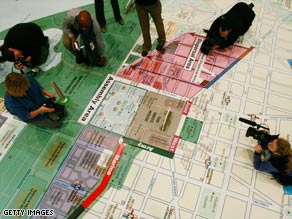 Members of the media inspect an inauguration planning map at the DC Armory in Washington on Thursday.
Even for a city used to big crowds, Obama's inauguration promises to shatter records for attendance. City officials predict up to 2.5 million people will converge on the capital January 20, and they are taking unprecedented steps to accommodate the masses.
Plans are in the works to open up the National Mall, extend hours for public transportation and -- perhaps most daunting -- provide parking for the influx of revelers.
"Even though we're very practiced at inaugurations and large events, this is one that will rewrite the book on inaugurations," said Rep. Eleanor Holmes Norton, D-Washington, D.C., who has requested an additional $15 million from Congress to help the city cover costs. That would double the $15 million Congress has already allocated to pay for all national events and demonstrations in Washington during 2009.
Mayor Adrian Fenty agreed that costs for increased security and crowd control would dwarf the original allocation. And for a city facing a budget shortfall and the same economic downturn affecting the rest of the country, now is not the time to rack up debt, Fenty told CNN.

Watch more on the inauguration cost »
"We are in talks with the federal government as we sit here today to let them know -- I think they already know that that's not enough," he said, referring to the initial $15 million allocation. "Now the question is if you want to make sure that you cross every 't' and dot every 'i,' it does look like it's going to be significantly more than that." iReport.com: Are you attending the inauguration? Send your photos
Don't Miss
Fenty predicted costs for the city would near $50 million, the same amount Congress provided to both Denver, Colorado, and St. Paul, Minnesota, to host the Republican and Democratic conventions earlier this year.
Record-breaking numbers of people, he said, mean more services: "More buses, more federal cooperation, more emergency medical service workers, more police officers needed, more hotel rooms needed, more streets that are going to have to be closed, more water in case it's hot and more places to stay if it gets particularly cold and people need some type of hypothermia relief."
And relief of another kind will be provided. The Washington Post reported Friday that Emmett Beliveau, executive director of the Presidential Inaugural Committee, said there would be 5,000 temporary toilets available on the Mall and along the parade route.
Also, the city will double its 4,100-member police force by calling in officers from other districts and is working with local transportation officials on how to move people downtown to watch the festivities.
It's not all bad news. With the crowds comes an uptick in tourism, city officials said. Bars will be open until 4 a.m. to accommodate revelers, and hotels in the area are selling at two or three times the normal rates. Washington residents are embracing the news by flooding the Craigslist Web site with offers to rent their homes and apartments to out-of-towners.
"There'll be plenty of people coming, using our grocery stores, restaurants, movie theaters, hotels; spending money, enjoying themselves," Fenty said. "And when they see how great a city this is, if they didn't already know, they certainly will return."
Inaugural planners say interest in the inaugural celebrations has been enthusiastic and nonstop. Inaugural Committee spokeswoman Linda Douglass said 35,000 people have already registered to volunteer.
"We know there's a lot of energy here, and we want to do everything we can to accommodate that," Douglass said. "We've been told there is going to be a very big crowd coming, and we are working with the city and the federal officials to do everything we can to make sure they can get here, that they'll be safe, that they'll be comfortable and that they'll be able to participate in some way."

For all the tourists who do turn out, Fenty said no matter what the cost, the city will work to charm its visitors.
"We want everyone to have a great time," Fenty said. "We want everybody to enjoy the nation's capital, and come bring your friends, bring your family and then hopefully just be a part of history."
E-mail to a friend

All About U.S. Presidential Inauguration • Adrian Fenty • Washington, DC