CHICAGO, Illinois (CNN) -- President-elect Barack Obama has picked GOP Rep. Ray LaHood of Illinois to be his nominee for transportation secretary, two sources told CNN on Wednesday.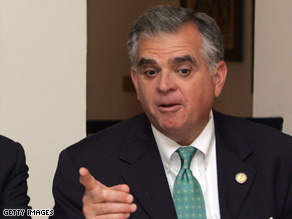 Rep. Ray LaHood of Illinois would be the second Republican in Obama's Cabinet.
Two Democratic sources also said Obama will tap Mary Schapiro to head the Securities and Exchange Commission.
Schapiro is CEO of the Financial Industry Regulatory Authority, the largest nongovernment regulator for all securities firms doing business with the U.S. public. She is a former SEC commissioner and served as chairman of the Commodity Futures Trading Commission in 1994 during the Clinton Administration.
Obama will formally announce his choice of LaHood, a seven-term congressman from Peoria, at a press conference in Chicago on Thursday morning, the sources said.
LaHood is well-respected by Democrats and Republicans on Capitol Hill.
One of LaHood's closest friends in Congress, fellow Illinois Republican Tim Johnson, said LaHood "has the ability to work both sides of the aisle well" and called him "an extraordinarily talented legislator."
Obama has so far chosen one other Republican for his Cabinet. Defense Secretary Robert Gates will stay on in the Obama administration.
Earlier on Wednesday, Obama announced former Iowa Gov. Tom Vilsack as his choice for agriculture secretary and Colorado Sen. Ken Salazar as his choice for secretary of the interior.
"Together they will serve as guardians of the American landscape on which the health of our economy and the well-being of our families so heavily depend," Obama said at a news conference in Chicago.
Vilsack was a high-profile supporter of Sen. Hillary Clinton during the presidential primaries after he briefly sought the Democratic presidential nomination.
Vilsack has championed the development of ethanol, an alternative energy, in Iowa -- something that coincides with Obama's vision for an energy-independent future, and something he can promote from the Department of Agriculture.
Vilsack, who dropped out of the presidential race in February 2007, is the fourth former presidential rival to join Obama's team.
Vice president-elect Joe Biden; Hillary Clinton, Obama's pick for secretary of state; and Bill Richardson, Obama's pick for secretary of commerce, also sought the Democratic presidential nomination.
"With the appointments I announced earlier in the week, and with those I am announcing today, I am confident that we have the team we need to make the rural agenda America's agenda, to create millions of new green jobs, to free our nation from its dependence on oil and to help preserve this planet for our children," Obama said.

Watch Obama name Salazar and Vilsack to his team »
Salazar, Obama's choice for secretary of the interior, has focused on public land and energy resource issues as a first-term senator from Colorado. He is the second Latino to be named to Obama's Cabinet.
Obama said Wednesday he was confident that under Salazar, the Interior Department would become more proactive instead of "sitting back, waiting for whoever has most access in Washington to extract what they want."
Salazar is a member of the Senate Committee on Energy and Natural Resources and has developed a reputation as a strong advocate of reducing the country's dependence on foreign oil.
A fifth-generation Coloradan, Salazar was elected to the Senate in 2004 and quickly made a name for himself in immigration reform.
He was a key member of a bipartisan Senate group that put together the Comprehensive Immigration Reform Act of 2007, which would have beefed up border security and increased the number of Border Patrol agents, but also would have created a guest worker program.
That program would have allowed migrants to work temporarily in the Untied States. The most controversial aspect of the bill was the creation of a pathway to legalization and eventual citizenship for the estimated 12 million illegal immigrants already in the country, an idea that critics dismissed as "amnesty." The bill failed to make it through Congress.
Salazar's appointment would not jeopardize the balance of power in the Senate. Colorado Gov. Bill Ritter, a fellow Democrat, would name his replacement. iReport.com: Chatting with Salazar
Also on Wednesday, White House spokeswoman Dana Perino announced that Obama will meet for a second time with President Bush. The meeting also will include the three living former presidents.
President Bush will be host at a lunch with Obama and former Presidents Jimmy Carter, George H. W. Bush and Bill Clinton on January 7, Perino said.
Obama proposed the meeting with the former presidents to Bush when the two met in the Oval Office on November 10, two sources said.
The high-powered meeting is another sign of how closely the Obama and Bush teams have been working to try to make sure the first post-9/11 transfer of power goes smoothly.
"It's been unbelievably cooperative," said one Democratic official, who was not authorized to speak publicly about the conversations between Bush and Obama.
E-mail to a friend

CNN's Ed Henry, Jessica Yellin and Candy Crowley contributed to this report.
All About Barack Obama