CHICAGO, Illinois (CNN) -- Illinois Gov. Rod Blagojevich returned to work Wednesday, a day after his arrest on federal corruption charges related in part to the selection of a successor to Barack Obama's former Senate seat.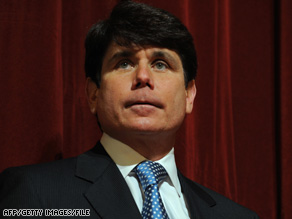 Illinois Gov. Rod Blagojevich, a Democrat, was arrested Tuesday on federal corruption charges.
Blagojevich arrived at his office in a dark sport utility vehicle around 9:30 a.m. CT (10:30 a.m. ET).
The governor appeared before a federal magistrate Tuesday afternoon, hours after FBI agents went to his house on Chicago's North Side and arrested him.
Bail was set at $4,500, and the governor was released on his own recognizance.
"He's extremely upbeat and very sad and disappointed that this occurred. He feels he didn't do anything wrong," Blagojevich's attorney, Sheldon Sorosky, told reporters Tuesday night. "He hopes the people of Illinois have faith in him because he will be vindicated."
News of the governor's arrest and details of his phone conversations, which federal investigators taped, set off a chorus of calls for him to relinquish his authority to fill the vacant Senate seat. Others, including Obama, called for his resignation.
Asked in an Associated Press questionnaire whether the president-elect believes the governor should resign, Obama spokesman Robert Gibbs replied, "Yes."
Gibbs said Obama agrees with others that "under the current circumstances it is difficult for the governor to effectively do his job and serve the people of Illinois."
Sen. Dick Durbin, D-Illinois, said Tuesday that he wants the state Legislature to pass a law that would set up a special election to fill Obama's seat. "No appointment by this governor under these circumstances could produce a credible replacement," Durbin said.
Earlier Wednesday, a congressman from Illinois said it is unlikely that Blagojevich will step aside to allow someone else to make the Senate appointment.
"I don't think that he's going to step aside. And I'm not calling for his resignation," said U.S. Rep. Danny Davis, an Illinois Democrat who is seeking the seat. "We do have a judicial system that says you're innocent until you're proven guilty."
Under a provision in the Illinois Constitution, the governor is allowed to step aside but not necessarily resign, Lt. Gov. Pat Quinn said Tuesday.
Quinn said under the provision, a determination can be made later as to whether Blagojevich can return to office.
Blagojevich openly praised Davis at Thanksgiving, calling him a strong candidate for the Senate seat. Davis was asked whether there were any strings attached to his support.
"No, I don't think there would have been. As a matter of fact, there has never been any hint of impropriety or quid pro quo in any conversations that I ever had with the governor or anyone representing the governor," Davis said.
CNN senior legal analyst Jeffrey Toobin said he wouldn't be surprised if Blagojevich tried to appoint himself to the Senate seat.
"Historically, there have been governors who appointed themselves to Senate vacancies," Toobin said. "But the situation now is really just an extraordinary mess, because today he is the governor."
The government had bugged the governor's campaign office, placed a tap on his home phone and listened to the governor talk about wanting possible deals, said U.S. Attorney Patrick Fitzgerald on Tuesday.

Watch as Fitzgerald discusses the charges »
According to a 76-page FBI affidavit released after Blagojevich's arrest, the governor did often weigh the option of appointing himself, saying he was "stuck" at governor and might avoid potential impeachment if he went to the Senate. It also could help him remake his image ahead of a possible presidential run in 2016, according to the affidavit.
"If ... they're not going to offer anything of any value, then I might just take it," Blagojevich said in one intercepted conversation.
FBI agents also arrested Blagojevich's chief of staff, John Harris, on federal corruption charges Tuesday.
They were each charged with a count of conspiracy to commit mail and wire fraud and a count of solicitation of bribery, authorities said. The conspiracy charge carries a maximum penalty upon conviction of 20 years in prison, while the solicitation of bribery charge carries a 10-year sentence upon conviction. Each count also carries a maximum fine of $250,000 upon conviction.
Prosecutors allege the two were "conspiring to obtain personal financial benefits" for the Illinois governor by leveraging his sole authority to appoint a senator.
According to the affidavit, Blagojevich was recorded saying of the Senate seat: "I've got this thing and it's [expletive] golden and uh, uh, I'm not just giving it up for [expletive] nothing."
Obama said Tuesday that he had no contact with the governor or his office about the Senate seat. "I was not aware of what was happening," he said.

View politicians' reactions to the charges »
According to the affidavit, Blagojevich discussed obtaining a substantial salary for himself at a nonprofit group or an organization affiliated with labor unions as well as placing his wife, Patti, on paid corporate boards, the government said.
During one recorded conversation, Blagojevich said he needed to consider his family and said he was financially hurting, the affidavit said.

Get an overview of the governor and the charges »
"I want to make money," Blagojevich said, according to the affidavit.
The intercepted phone calls also caught the governor and Harris discussing the possibility of the Tribune Co.'s obtaining assistance from the Illinois Finance Authority in efforts to sell the Chicago Cubs and the financing or sale of Wrigley Field, the government said. The company owns the Chicago Tribune, the Cubs and Wrigley Field. Tribune has announced it is filing for Chapter 11 bankruptcy protection.
Blagojevich allegedly directed Harris to tell Tribune officials that state assistance would be withheld unless members of the newspaper's editorial board were fired. The Illinois governor saw them as "driving discussion of his possible impeachment," the affidavit said.
"Our recommendation is fire all those [expletive] people, get 'em the [expletive] out of there and get us some editorial support," the governor allegedly said in one phone call. iReport.com: What do you think of Blagojevich's corruption charges?
Federal authorities also allege the governor and Harris schemed with others -- including convicted real estate developer Antoin "Tony" Rezko -- to obtain financial benefits for himself, his family and others, including his campaign committee, Friends of Blagojevich.
Fitzgerald said the case required "unusual measures" because of actions Blagojevich was expected to take soon, including filling the vacant Senate seat. "There were a lot of things going on that were imminent," he said.
"We were in the middle of a corruption crime spree, and we wanted to stop it," Fitzgerald said.

Watch as Fitzgerald discusses Obama's former Senate seat »
Fitzgerald said Blagojevich was looking to pull $8 million in funding for a children's hospital after the hospital's chief executive officer did not give a $50,000 contribution to the governor's campaign.
Also, Fitzgerald said, it was expected that Blagojevich would soon sign into law a bill that would direct a percentage of casino revenue to the horse racing industry -- a bill supported by someone who contributed $100,000.
E-mail to a friend

All About Rod Blagojevich • Illinois