By Campbell Brown
CNN

Editor's note: Campbell Brown anchors CNN's "Campbell Brown: No Bias, No Bull" at 8 p.m. ET Mondays through Fridays. She delivered this commentary during the "Cutting through the Bull" segment of Wednesday night's broadcast.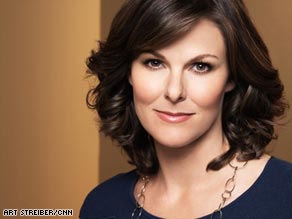 CNN's Campbell Brown says Obama should explain what he knew of allegations against Gov. Rod Blagojevich.
(CNN) -- Tonight, a call for a little more transparency from President-elect Barack Obama about what he did or did not know about the allegations against Gov. Rod Blagojevich in Illinois.
I will first re-iterate what we heard from U.S. Attorney Patrick Fitzgerald. He said Obama did nothing wrong and there are no allegations of wrongdoing against the president-elect.
Then Obama himself said he never had contact with the governor about who should replace him in the Senate and had no idea any of this was going on.
Fair enough. But that is all Obama has said.
And what now looks pretty clear, at least based on these tapes and what the U.S. attorney is telling us, is that someone from Obama-world did have communication with the governor about this.
Who was it? What was said?
Attempts by CNN reporters and others to get answers have been met with a big: "no comment due to an ongoing investigation."
'No bias, no bull'
Get the latest on the day's main events on "Campbell Brown: No Bias, No Bull"
8 ET Monday through Friday on CNN

Sorry, but that's not good enough for someone who ran a campaign based in part on a promise of more openness and transparency.
At the very least you could have assured that you and your staff are getting to the bottom of this and fully cooperating with the investigators.
After all, we can figure some of this out on our own.
It seems pretty clear that Valerie Jarrett, soon to be one of Obama's top White House advisers, was at one time on Blagojevich's shortlist to take Obama's Senate seat, and that there was some communication between Blagojevich and someone in Obama-world -- someone who allegedly conveyed to the governor that all he would ever get from Obama was appreciation.
So who was this point-person on Obama's team?
Don't Miss
Did they know what Blagojevich was allegedly up to? And did they tip off investigators?
Or did they know the governor was allegedly soliciting bribes and did nothing?

Watch Campbell Brown's commentary »
These are unanswered questions.
Mr. President-elect, we understand there are reasons you have said so little. We recognize you don't want to do or say anything that might compromise the investigation.
But all too often we have also seen presidents hide behind a "no comment due to an ongoing investigation" when they find themselves or their administrations caught up in scandal.
For that reason, and because you asked us to hold you to a different standard, it is fair to ask you to be more forthcoming.
Be more direct and clear with the American people about what you and the people around you knew, or didn't know.

The opinions expressed in this commentary are solely those of Campbell Brown.
E-mail to a friend

All About Barack Obama • Rod Blagojevich