By Terry Frieden
CNN Justice Producer
WASHINGTON (CNN) -- Two key House Democrats demanded in a letter to Attorney General Michael Mukasey on Thursday that he explain his recent comments about U.S. counterterrorism officials' controversial policies on detainee interrogations and terrorist surveillance.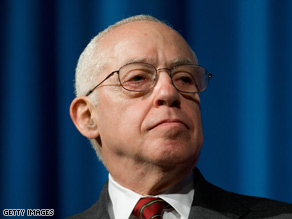 Attorney General Michael Mukasey says there was no basis to pardon counterterrorism officials for their policies.
House Judiciary Committee Chairman Rep. John Conyers, D-Michigan, and Civil Liberties Subcommittee Chairman Jerrold Nadler, D-New York, insisted Mukasey explain by December 12 why he told reporters Wednesday the officials saw no need for presidential pardons to those engaged in formulating the policies.
Mukasey had dismissed the notion there was any basis for President Bush to pardon counterterrorism officials.
"There is absolutely no evidence anybody who rendered a legal opinion either with respect to surveillance or with respect to interrogation policy did so for any reason other than to protect the security of the country and in the belief that he or she was doing something lawful," Mukasey said.
Those comments prompted the congressional letter, challenging the attorney general's public assertions.
"We are troubled by the breadth of your statement and the blanket conclusion that everyone involved in approving these policies believed they were acting within the law," the congressmen wrote. They noted the much publicized internal administration debates over the policies.
"Our greatest concern, however, is that your statement appears to be prejudging numerous ongoing investigations," they said.
The Justice Department Inspector General is currently investigating the legal policy and advice on the Terrorist Surveillance Program. A special counsel is investigating aspects of the harsh interrogations of some detainees.
Peter Carr, chief spokesman for the Justice Department, said the department "will review the letter and respond as appropriate," but he rejected the lawmakers' suggestion that the attorney general had prejudged ongoing probes.
"The attorney general's recent statements do not imply, any more than his previous statements, that he has prejudged any pending investigations. Rather, the attorney general simply reiterated that he remains unaware of any evidence of criminal misconduct or bad faith with respect to the Department's provision of legal advice concerning the Executive Branch's counterterrorism programs," Carr said.
E-mail to a friend

All About Michael Mukasey • Espionage and Intelligence • Terrorism