By Jonathan Mann
(CNN) -- Barack Obama made it official this week: Hillary Clinton will be his secretary of state and Bill Clinton will be his headache.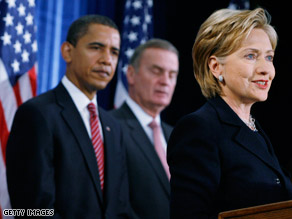 Hillary Clinton addresses the media in Chicago Monday as President-elect Barack Obama looks on.
Obama's major cabinet picks are now complete: his defense secretary will be the man already holding the job, Robert Gates. His choices to head the crucial Treasury, Justice and Homeland Security Departments are also experienced professionals.
The candidate known as "No Drama Obama" played it safe.
Hillary was the surprise. She was, of course, his rival, in the primaries - a bitter contest that threatened to split the Democratic Party. But in her new job as America's chief diplomat, she's expected to stay clear of his domestic agenda and support his policies overseas.
Bill Clinton is a private citizen, officially outside the administration but still too popular, too influential and too married to Hillary to be ignored. Clinton told CNN this week that "In all the years I was governor and president, I talked to her about everything."
And he plans to keep talking. "I really care about the profound challenges that the country and the world are facing. But the decisions will ultimately have to be president Obama's decisions."
Some of Obama's decisions may have to be about Bill Clinton. When word first emerged that Hillary might get the new job, attention turned to the way that Bill has been making his living and raising money for a charitable foundation he established. He's reportedly collecting hundreds of millions of dollars from speeches, contributions and business deals around the world.
The potential conflict of interest, for a man with intimate access to America's top diplomat, is enormous.
To help Hillary land the job, Clinton agreed to oversight unprecedented for the spouse of a U.S. cabinet secretary, letting the State Department and White House review his future speaking engagements, fund-raising and business interests.
That means Bill Clinton's business will essentially be the Obama administration's business.
And it's not just business. The Clintons have the most public marriage in American public life. Americans are still fascinated
In the course of the transition between administrations, Obama has said repeatedly that there is only one president of the United States at a time. Right now, it's George W. Bush. There will also only be one president after Obama takes office on January 20.
One president. And two Clintons.
E-mail to a friend

All About Democratic Party • Barack Obama • George W. Bush • Hillary Clinton