From Elise Labott
CNN State Department Producer
(CNN) -- President-elect Barack Obama ended weeks of speculation by nominating Sen. Hillary Clinton as his secretary of state, choosing a onetime chief rival as his top diplomat.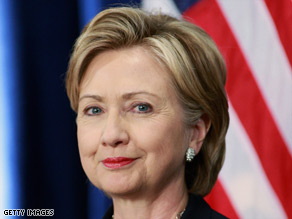 Sen. Hillary Clinton has taken strong positions on Iran, India and the Middle East conflict.
But given the former first lady and two-term senator's power to polarize -- and galvanize -- U.S. and global politics, speculation has begun about what type of secretary of state she would be.
If confirmed by the Senate, Clinton will have to transform herself from politician to diplomat, and her biggest challenge will be changing the vision she expressed as a senator from New York and as a presidential candidate and become an "honest broker," the role the U.S. secretary of state often plays in the world's hot spots.
On the campaign trail, both Obama and Clinton often spoke of the need to revamp U.S. foreign policy, but she was seen as being more hawkish than her future boss.
The question now is whether she will be able to balance her considerable foreign policy experience with the foreign policy vision of Obama, who called for a "new dawn of American leadership" in a troubled world.

Watch Obama praise Clinton's diplomatic abilities »
Obama has promised a new direction in foreign policy that emphasizes multilateralism and "soft power," which involves influencing nations through diplomacy humanitarian aid, democracy building and working with nongovernmental groups.
"We're going to have to bring the full force of our power -- not only military, but also diplomatic, economic, and political -- to deal with those threats not only to keep America safe but also to ensure that peace and prosperity will exist around the world," he said.
Alongside Obama, Clinton embraced that vision, citing a long list of global challenges facing the United Sates, such as ending the wars in Iraq and Afghanistan, confronting the ongoing threat of terrorism and helping to solve global warming.

Watch Clinton outline her foreign policy vision »
Solving these crises, she said, will require "more partners, fewer adversaries" and the realization they will not be solved solely by America alone or by the use of force.
But implementing that vision may prove daunting, and to be effective, Clinton will have to be a neutral broker between conflicting nations, and any perception of her favoring one side over the other could prompt suspicions of bias and damage U.S. credibility.
Take the Middle East, for example. Clinton adopted a strong pro-Israel stance when she was a senator and presidential candidate, and Israeli officials have delighted in her nomination, calling her "a friend of the state of Israel and the Jewish people."
But if she is to continue in the long tradition of U.S. secretaries of state, brokering peace between the Israelis and Palestinians, she will have to balance the interests of both sides in searching for an elusive peace deal.
The same goes for Iran. Although she called for a revival of diplomacy with Iran, as a candidate, she said the United States could "totally obliterate" Iran in retaliation for a nuclear strike against Israel.
Although Obama has never taken a military option off the table, he has signaled a much greater willingness to engage Iran and would probably expect his secretary of state to tone down such bellicose rhetoric.
Rising tensions between India and Pakistan over last week's deadly terrorist attacks in Mumbai are also likely to present Clinton with an early test of her ability to be an honest broker. On Monday, Obama called the instability and increase in extremism in that region the "single most important threat" facing the United States.
As both first lady and senator, Clinton toured India and enjoys warm ties with the Indian-American community, which rejoiced over her nomination for secretary of state. She had planned to lead an India caucus in the Senate, and Obama even criticized her pro-India stance during their battle for the Democratic nomination.
But Clinton will be entrusted with making sure India and its nuclear neighbor Pakistan de-escalate tensions, work together to combat extremism and try to solve the thorny issue of Kashmir.
Clinton was rumored to be ambivalent about taking the job of secretary of state unless she was truly considered Obama's chief diplomat, a promise Obama made.
But she will be part of a national security team, which will include former Marine Gen. Jim Jones and current Defense Secretary Bob Gates, known for its strong opinions and personalities.
This all-star cast will need to work well together, and the hope is that this strong national security line will avoid the mistakes made in President Bush's first term, when open warfare broke out between then-Defense Secretary Donald Rumsfeld, then-Secretary of State Colin Powell and Vice President Dick Cheney. The dysfunction of that team undoubtedly undermined U.S. goals abroad.
In the end, though, it will be Obama who sets U.S. foreign policy and will expect his team to implement his vision. As Obama said when he unveiled his national security team, "as Harry Truman said, the buck will stop with me."
E-mail to a friend

All About Hillary Clinton • Middle East Conflict • Iran • Barack Obama