By Paul Steinhauser
CNN Deputy Political Editor
WASHINGTON (CNN -- Former President Bill Clinton has no interest in replacing his wife in the U.S. Senate, his spokesman said, adding any speculation that he would be interested is "completely false."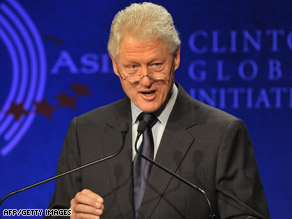 Former president Bill Clinton's spokesman said he will continue to expand the work of his foundation.
As Hillary Clinton prepares to make the move from Capitol Hill to the incoming administration following her nomination yesterday as President-elect Barack Obama's Secretary of State, the race is on to replace her in the Senate.
Monday Hillary Clinton said "leaving the Senate is very difficult for me."
The task of choosing a successor to Clinton will be just as tough. That job falls to David Paterson, New York's Democratic governor.
A spokesman for Hillary Clinton said the senator will remain in office through her confirmation, and Paterson said Monday that he'll announce his choice in January.
The replacement will serve for two years, then a special election will be held in November 2010 to decide who will fill out the final two years of Clinton's term.
Paterson, who has already taken himself out of the running, has a strong bench to choose from. There are a number of possible contenders, including at least a half dozen members of New York's delegation in the House of Representatives, New York State Attorney General Andrew Cuomo, Buffalo Mayor Byron Brown, Bronx Borough President Adolfo Carrion, Nassau County Executive Thomas Suozzi, Caroline Kennedy and her cousin, Robert Kennedy Jr..
But some were suggesting that the former president replace his wife. In an op-ed last week in the Washington Post, journalist and author Karl Meyer and his wife urged Patterson to "send Bill Clinton to the Senate."
Responding to such speculation, Clinton spokesman Matt McKenna tells CNN that "it's completely false. President Clinton is excited to expand the work of his foundation which has more than 1,000 staff and volunteers in 44 countries advancing projects on HIV/AIDS, climate change, sustainable economic development and childhood obesity."
Don't Miss
The former president's Clinton Global Initiative has helped to raise nearly $50 billion for more than 1,200 projects that are aimed at improving the lives of people across the globe. In the United States, the Clinton Foundation helps in the battle against childhood obesity.
Only two former presidents have made the move from the White House to Capitol Hill. President John Quincy Adams lost his re-election bid in 1828. Two years later he returned to Washington after winning election as a congressman from his home state of Massachusetts. He served in the House of Representatives until his death in 1848.
President Andrew Johnson, who served out the remainder of President Abraham Lincoln's term, also served briefly in the Senate in 1875, seven years after Congress voted to impeach him.
E-mail to a friend

All About Bill Clinton