By Campbell Brown
CNN

Editor's note: Campbell Brown anchors CNN's "Campbell Brown: No Bias, No Bull" at 8 p.m. ET Mondays through Fridays. She delivered this commentary during the "Cutting through the Bull" segment of Wednesday night's broadcast.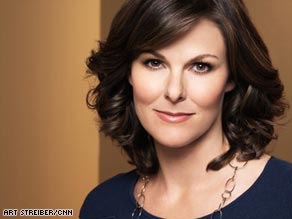 CNN's Campbell Brown says 35 children have been dumped since Nebraska made its law.
(CNN) -- Right now in the state of Nebraska, the governor is literally begging people not to bring their teenage children there to dump them, so that the state then has to care for them. But it's happening. It's happening a lot.
Here is the back story:
You may have heard of safe haven laws. The laws are intended to allow parents to leave an infant at a hospital anonymously and not face prosecution. The goal is to try to prevent unwanted babies from being abandoned.
The problem is that unlike other states, Nebraska set no age limit when it passed its safe haven law a few months ago, so people are literally dropping off kids of all ages at Nebraska hospitals.

Watch Campbell Brown's commentary »
In some cases, they are driving to Nebraska from other states to abandon their children.
The state Legislature this week is expected to change the law because of this to now impose an age limit.
But the 35 kids who have already been dumped are now part of a system. They're old enough to know what's happened.
One social worker said some had begged their parents or guardians not to leave, saying they might not understand why they're being left, but they know they're being left.
'No bias, no bull'
Get the latest on the day's main events on "Campbell Brown: No Bias, No Bull"
8 ET Monday through Friday on CNN

No change in Nebraska's law will deal with the fact there are clearly a lot of parents out there willing to walk away, or they're so overwhelmed they don't know what else to do.
One mother who drove from Georgia to leave her son at an Omaha hospital said, "Don't judge me as a parent. I love my son."
What about family, friends, church, neighbors, social services in your home state? Do all of these options really not exist for that mother?
Maybe they don't. Maybe she really did feel that helpless.
Nebraska can and will change its law this week, but it seems to me it has just opened a Pandora's box.
We have to look and look hard at what is apparently a failure by our states to offer families any other recourse.
What is happening in Nebraska should be a wake-up call. We have to look at why in just the few months that law was on the books, 35 children were left behind.
The opinions expressed in this commentary are solely those of Campbell Brown.
E-mail to a friend

All About Nebraska