By Kristi Keck
CNN
(CNN) -- Far from stepping out of the public eye since the Republican ticket lost the election, Gov. Sarah Palin is moving deeper into the spotlight.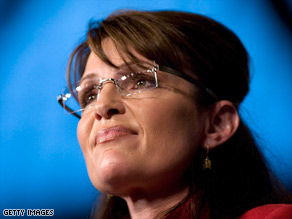 Alaska Gov. Sarah Palin has granted numerous interviews in the week after the election.
In the past week, the former vice presidential candidate has invited reporters into her home in Alaska, serving them moose chili and moose hot dogs as she opens up about her life and what's next.
The Alaska governor, who was criticized during the campaign for being too shielded from the media, has been granting back-to-back interviews, including two Wednesday on CNN.
Palin sat down with Wolf Blitzer in an interview that aired on "The Situation Room." Palin also will appear on "Larry King Live" at 9 p.m. ET.
Palin also plans to give remarks Thursday about "Looking Toward the Future" at the Republican Governors Association annual conference in Miami, Florida, and she's expected to hold a news conference later that day.
Her newfound openness with the media is a sign that she has her future in mind, analysts say.

Watch more on Palin's media blitz »
"Right now, Gov. Palin's future is up for grabs, and no one knows exactly what she wants. About the only thing we do know for sure is that lately, she has been preoccupied with clearing her name, which is an indication that she's got big plans for the future," said Gloria Borger, a senior political analyst for CNN.
Palin speaks out
Sarah Palin responds to her critics' attacks with CNN's Wolf Blitzer and then later on "Larry King Live."
Today, 4 and 9 p.m. ET

Palin is brushing off what she calls "false allegations from anonymous sources" from McCain campaign insiders who have refused to go on the record as they called her a "diva" and worse.

See how Americans view Palin »
Although Palin's been point-blank about shooting down rumors about her wardrobe, her record and going rogue, she's been less direct about her future plans.
Immediately after the election, she told CNN that she didn't know "what the heck's going to happen in 2012."
"Right now, I cannot even imagine running for national office in 2012," she said after the results came in. "When I say that, of course, [it's] coming on the heels of an outcome that I did not anticipate and had not hoped for."

See how VP candidates have done in their presidential bids »
One week later, the self-described maverick is sounding much more open to a future run.
Palin said she is leaning on her faith and looking for any future opportunities.
"I'm like, OK, God, if there is an open door for me somewhere, this is what I always pray, I'm like, don't let me miss the open door," she said in an interview that aired Monday on Fox News.
"And if there is an open door in '12 or four years later, and if it is something that is going to be good for my family, for my state, for my nation, an opportunity for me, then I'll plow through that door."
Don't Miss
The former beauty queen said it would be "very exciting to have an opportunity to serve in a greater capacity," but in the meantime, she said she has plenty to contribute to Alaska.
She told CNN that in 2012, she'll see where her kids are at that point in their lives. iReport.com: What's the future hold for Palin?
"They're going to come first, and we'll see what happens," said Palin, a mother of five.
Amy Holmes, a CNN contributor and conservative commentator, said Palin has the next four years to prove herself.
"We saw sassy Sarah, sexy Sarah. Hopefully over the next four years, we'll see smart Sarah as governor of Alaska, having to tackle issues like energy, energy independence, the Alaskan oil pipeline," Holmes said on CNN's "Larry King Live."
"There's a lot of ways she can showcase her talent and her intelligence as well as the soft mothering, cooking, nurturing side of her that she's been doing the rounds lately."
Observers have suggested that Palin, who will be up for re-election in 2010, could switch arenas and give the Senate a try.
The embattled Sen. Ted Stevens is still in a tight race for his seat against Democratic Anchorage Mayor Mark Begich. Stevens was convicted of seven federal corruption charges in October for filing false statements on Senate ethics forms.
Some have speculated that if Stevens wins, he would be expelled from the Senate, meaning there would be a special election in which Palin could run.
Palin told CNN that at this point, she wouldn't declare whether she would or wouldn't consider a run.
Outside of politics, some supporters are hoping Palin will follow former Arkansas Gov. Mike Huckabee's lead and take her folksy charm to the small screen. Huckabee has become a political commentator and talk-show host for Fox News.
Before the election, Palin wasn't keen on the idea of hosting a talk show. But being on television would be nothing new for her; she anchored a local sports segment before she dove into politics.
While the exact path the hockey mom-turned-cultural icon plans to take is unclear, one thing seems certain: Where she goes, the spotlight will follow.
E-mail to a friend

All About Sarah Palin • Republican Party