From Jamie McIntyre
CNN Senior Pentagon Correspondent
WASHINGTON (CNN) -- The outgoing head of the U.S. missile defense agency said he'll tell President-elect Barack Obama's transition team that missile defenses are workable and working in tests.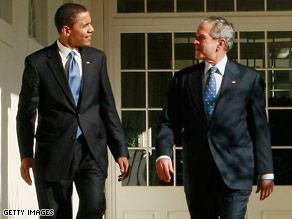 U.S. President-elect Barack Obama, with President Bush, has not commited to a missile defense shield in Europe.
During the campaign, aides to Obama said he would support a missile defense shield when "the technology is proved to be workable."
Lt. Gen. Trey Obering said Wednesday that missile technology is developed much further than some may believe it to be.
"Our testing has shown not only can we hit a bullet with a bullet, we can hit a spot on the bullet with a bullet. The technology has caught up," Obering said Wednesday.
Although not mentioning the president-elect or any of his transition team by name, Obering said that many critics are "behind the curve."
"What we have discovered is, a lot of those folks that have not been in this administration seem to be dated in terms of the program. They are kind of calibrated back in the 2000 timeframe," Obering said.
"We've come a hell of a long way since 2000. So our primary objective will be to educate them on what we have accomplished."
Don't Miss
He also suggested that the new president should not renege on the agreement to base part of the missile shield in Europe. The plan has infuriated Russia, whose president has warned that Russian missiles will be deployed against the planned system.
The plan for missile-defense installation includes basing missile interceptors in Poland. The interceptor rockets would be linked to an air-defense radar system in the Czech Republic.
"If we were to walk away from these deployments in Europe, it would severely hurt our ability to protect our deployed forces in that region and our allies in that region from what we see as an emerging threat," he said.
Asked whether the system is good enough now to shoot down one or two missiles from North Korea aimed at the United States, Obering said, "I have very high confidence we could defend the United States against that threat."
Obering, who leaves his job later this month, said he's confident that once the Obama administration gets all the facts, it will continue to support missile defenses.
On Saturday, an Obama adviser said the president-elect had made "no commitment" to plans for a missile defense program in eastern Europe, despite a report on the Polish president's Web site.
President Lech Kaczynski's office said on its Web site that Obama told Kaczynski on Saturday that he intends to continue plans for a missile shield in eastern Europe, but Obama's adviser denied the report.
"President Kaczynski raised missile defense, but President-elect Obama made no commitment on it. His position is as it was throughout the campaign: that he supports deploying a missile defense system when the technology is proved to be workable," said Denis McDonough, Obama's senior foreign policy adviser.
E-mail to a friend

All About Barack Obama • Russia • Czech Republic