By Ed Hornick
CNN

WASHINGTON (CNN) -- Si se puede.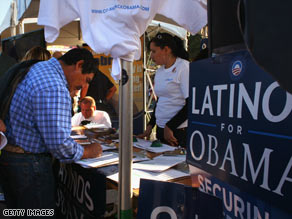 A new voter registers at a Democratic Party booth in September in Denver, Colorado.
Translation: Yes we can.
It was a common phrase used by Barack Obama and John McCain on the campaign trail this year as they tried to increase their outreach to Latino voters -- an influential voting bloc.
But clearly, based on exit polling, those voters overwhelmingly said 'si se puede' for the Illinois senator. Latinos supported Obama 67 percent to 30 percent for McCain.
Obama did well with Latinos because they appear to disapprove of President Bush's job performance more than the rest of the country, said Bill Schneider, CNN senior political analyst.
About 80 percent of Latinos gave Bush negative marks, while 72 percent of all Americans do, exit polling showed.
The question remains: Did Latinos flock to Obama's message of change or did they simply leave the beleaguered Republican Party?
Don't Miss
Fernando Espuelas, a prominent Latino radio host and activist, said it was a little of both.

Watch more on the public's view of Republicans »
"Obama inspired a lot of excitement among Latinos -- his immigrant background, the rags-to-riches-to-power narrative, his promise of change -- that resulted in massive support from the Latino community," he said. "At the same time, the GOP's torpedoing of comprehensive immigration reform, which was accompanied by inflammatory anti-Latino rhetoric and harsh, selective enforcement of immigration laws meant to satisfy the right wing of the party, was also a powerful force in Latinos' mass repudiation of the GOP."
Leslie Sanchez, a Republican strategist and CNN contributor, said Latinos rallied behind Obama's message of hope rather than "a misguided anti-immigrant siren touted by some Republicans."
"Immigration reform was not the bellwether issue for Latinos in 2008, yet the Democrats made the election a referendum on the issue. By accusing McCain of flip-flopping on comprehensive immigration reform, Obama managed to put the most pro-immigrant GOP primary candidate on the defensive," she said. Read more on comprehensive immigration reform
Mark Hugo Lopez, associate director of the Pew Hispanic Center, said the center's polling this year showed a steady stream of Latinos toward Obama and Democrats.
"Hispanics see Democrats more concerned about issues to the Latino community.... They saw Obama as the better candidate all around," he said. "Latinos are more likely to say Democrats are more in tune with their concerns."
Sanchez, author of "Los Republicanos, Why Hispanics and Republicans Need Each Other," said moving forward, the GOP must make a big effort to connect with the growing minority.
"[Republicans] have to develop a core of young bloods who connect with these voters in innovative ways and who are attuned to their brand of conservatism. ... We have to offer different alternatives ... connect in a way to reach this community more effectively."
But Espuelas said any short-term strategies for Republicans are bleak.
"Winning back Latinos' confidence could take a long time. People will not quickly forget the failed immigration reform, which was in any case seen by many as punitive and anti-family, nor will the wounds of the accompanying anti-Latino rhetoric and violence heal easily," he said.
Latinos are an important group to the political parties, representing 9 percent of the eligible electorate and 15 percent of the U.S. population.
In the 1988 presidential elections, Hispanics accounted for 3.7 million votes. In 2004, it was more than twice that -- 7.5 million votes.
President Bush took 44 percent of the Hispanic votes four years ago, helping him win re-election. But only 30 percent of that demographic cast ballots for Republicans in the 2006 congressional elections.
Democrats hoped this year that the Latino vote could prove pivotal in swing states such as Colorado, New Mexico, Nevada, Florida and North Carolina, which ranks 11th nationally in its percentage of Latino residents.
The Obama campaign made an unprecedented effort to attract new voters in the Latino community. The campaign's strong get out the vote efforts in many of these battleground states had been widely eyed as a major reason for Obama's strong showing in formerly GOP-leaning states.
"In the end, McCain could not secure these swing voters to trust he would make the best choices to protect the quality of life," Sanchez said.
The Arizona senator had hoped that education appeals and social values could help chip away at an expected landslide from Latinos.
But a Pew Hispanic Center Poll taken over the summer showed issues like education, jobs and health care weighed heavily on Latino voters.
Ninety-three percent of those surveyed said education was the top issue, followed by jobs with 91 percent, and health care with 90 percent.
"By a margin of 3-1, Hispanic registered voters believe that Obama will do a better job than McCain of dealing with education, jobs ... health care," Lopez said. Read more on the poll
The fact that the economy was issue No. 1 for Latinos is a large reason for their support of Obama, Espuelas said.
"The economy is the single most important issue impacting Latinos. We suffer disproportionately in a down economy -- higher unemployment, lower wages and fewer resources to tap in bad times."
CNN Polling Director Keating Holland said voting history among Hispanics has typically favored Democrats.
"Since 1972, Democratic candidates for president have, on average, won 64 percent of the Hispanic vote. So a 66 percent mark for Obama is pretty much what you would expect a Democratic candidate to get from Latinos," he said.
McCain and Obama both addressed gatherings of three of the nation's most influential Hispanic groups this summer.
Even as McCain tried to reassure conservatives that he would stress security in his immigration policy, he hit the airwaves this year with a string of Spanish-language radio ads and a television spot highlighting the service of Latino veterans.
So what should Obama and the Democrats do to keep Latinos in their corner?
Espuelas said Latinos want reasonable immigration reform that benefits the country and immigrants.
"If the Democrats can deliver, they will have the Latino vote as a dependable block election after election," he said.
E-mail to a friend

CNN's John King and Bill Schneider contributed to this report.
All About Hispanic and Latino Issues • John McCain • Barack Obama